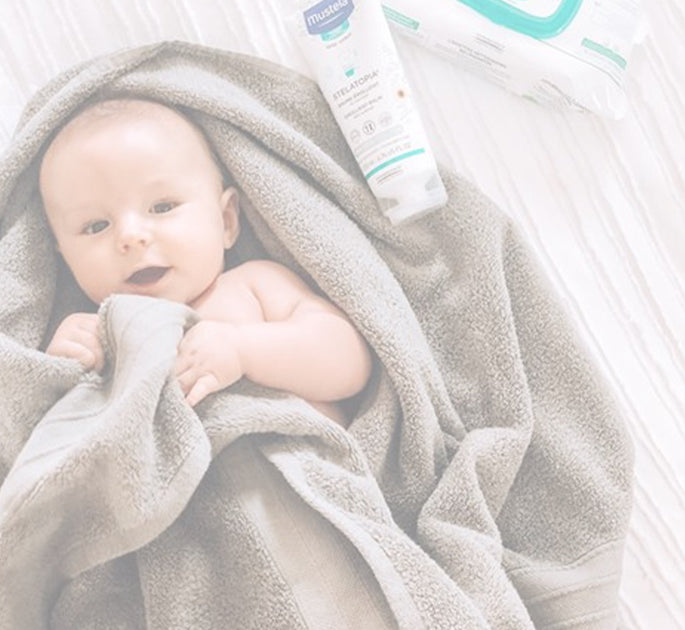 How To Give Your Newborn Baby A Sponge Bath
With your brand new baby in your arms, you and your little one have many "firsts" ahead of you. One of those milestone moments is your baby's first bath. If you're wondering how to give your newborn a sponge bath, you're in the right place.
In this article, we'll cover the sponge bath basics: when to do it and how to go about it. And, since your baby will graduate to regular baths before you know it, we'll also discuss when to make that switch and how to bathe your tiny one.
First up: What exactly is a sponge bath?
What Is A Sponge Bath?
Before you learn when or how to do it, let's start with the basics. What is a sponge bath?
A sponge bath simply means using a wet cloth to wipe your little one down. That's it. It's not very complicated! However, there are a few things to keep in mind.
When To Give Your Baby's First Sponge Bath
You may feel the need to give your newborn a sponge bath as soon as they're born. This is not only unnecessary, but it's actually better to wait at least 24 hours after your baby enters the world. Why?
One reason is to maintain the coating (called the vernix) on your newborn's skin. The vernix has antibacterial properties and helps to protect their skin, so you don't want to wash it off immediately.
Another reason is that tiny newborn babies can get cold easily and a sponge bath doesn't help them stay warm! Give their body time to adjust and wait a day or two to get them wet.
Since you won't be giving your baby a sponge bath in the first 24 hours, spend that time bonding with your little one and starting to get the hang of breastfeeding.
Expert Tip: To keep your skin comfortable while nursing, apply our Nursing Comfort Balm, a soothing and restorative nipple cream. This lanolin-free balm moisturizes and protects nipples, eases discomfort, and helps to replenish and restore skin during and after breastfeeding.
How To Give Your Newborn A Sponge Bath
Giving a sponge bath is simple, but there are just a few things to keep in mind. Here's how to do it.
1) Gather Your Supplies
Before you undress your baby, it's essential to prepare the area and gather your supplies. It's also best to give the sponge bath in a warm room to help keep your baby from getting chilly.
Start by spreading out a towel on a flat surface for your little one. Then, fill a basin or bowl with warm water and get a soft sponge or a baby washcloth. That's all you need! There's no need for soap or shampoo.
Next, get your newborn!
2) Undress Your Baby
Take your baby's clothes off, but leave their diaper on. Then, wrap your newborn in a towel. This will help keep them warm during the sponge bath.
Lay your baby on the towel that you spread out, keeping a hand on your baby at all times.
3) Sponge Your Baby
Now it's time for the big event. Wet the sponge or washcloth in the warm water and wring out the extra water. Then, simply wipe or sponge your baby's skin, repeating this process all over their body, starting at their sweet head moving all the way down to their tiny toes.
To keep your newborn as warm as possible, keep them wrapped in the towel, unwrapping and washing only one area at a time. Pay attention to any creases or folds and clean them well!
Last but not least, you'll wash their diaper area. It's important to remember that girls should be washed front to back. And, if your baby boy is circumcised, wash with only water until it is all healed up.
How Often Should You Give Your Baby A Sponge Bath?
Your newborn's first sponge bath is in the books! Now, you might be asking yourself how often to wash your little one.
Newborns don't really get sweaty or dirty (besides spit-ups and blowouts!). As long as you're washing their skin after spit-up or drool and thoroughly cleansing their diaper area with every change, a sponge bath two to three times a week is sufficient.
Expert Tip: To keep your baby's skin clean between baths or when there's a mess on the go, use our Certified Organic Micellar Water with Olive Oil and Aloe, which is fragrance-free and gentle enough for your baby's sensitive skin.
There's no need to rinse micellar water off, so it's ideal for quickly and easily cleansing your baby's face, hands, body, and diaper area when you can't give them a bath.
Before you know it, your infant will be ready for their first bath in the baby tub. Let's briefly discuss when to make the switch.
When To Give Your Baby's First Tub Bath
You can change from sponge baths to baby tub baths when your newborn's umbilical cord falls off, which typically happens around one or two weeks.
Keep in mind that even though the way you're bathing your baby has changed, the frequency should remain more or less the same. Bathing your newborn too often can dry out their delicate skin. Baths two to three times a week will be sufficient.
How To Give Your Newborn A Tub Bath
1) Gather Your Supplies
Just as with a sponge bath, you'll want to warm up the room and get all your bathing supplies together before you undress your baby.
Here are the bathing supplies we recommend:
A baby bath tub or sink insert
A soft towel
A baby washcloth
A plastic cup
Clean clothes
A clean diaper
For a baby shampoo that is safe and gentle on newborn skin, turn to our Foam Shampoo for Newborns. This formula is specially made to cleanse your baby's hair and scalp while also minimizing cradle cap flakes. Plus, the easy-to-use foam texture rinses off easily.
Made with 99% naturally derived ingredients, this newborn shampoo is hypoallergenic and free of fragrance, parabens, phthalates, and phenoxyethanol. Safe for the environment and your little one!
2) Fill The Bath With Warm Water
Your baby has graduated from sponge baths to a baby bath tub, but that doesn't mean you'll be filling the tub (or sink) to the top. All you need is two to three inches of warm water.
Use a bath thermometer to make sure the water is somewhere between 90 and 100 degrees or, if you don't have a thermometer, test the water with your wrist or elbow.
3) Bathe Your Baby
Undress your baby, lay them gently in the bath, and wash their body with a gentle, natural cleanser like our Soothing Cleansing Gel or Gentle Cleansing Gel. If you prefer an organic option, look no further than Organic Cleansing Gel with Olive Oil and Aloe.
This biodegradable formula comes in a recyclable bottle and is free of questionable ingredients, making it good for your baby and good for the planet! The packaging is even made from sustainably sourced sugar cane.
Start by washing your baby's face, and finish with their bottom. Then, using the plastic cup, rinse the suds off of their body.
4) Pat Your Baby Dry
Once your baby is clean and rinsed, take them out of the tub and gently dry off by patting (not rubbing) your little one's skin. Get them dried and dressed as soon as possible — a wet baby is a cold baby!
5) Moisturize Your Baby's Skin
Newborn skin is usually pretty self-sufficient! Your little one may not need any lotion at all, but if they do, choose a gentle, non-irritating cream that will be just the thing for their baby skin!
Our Soothing Moisturizing Baby Lotion is a fragrance-free, EWG Verified moisturizer designed specifically for sensitive, rashy, or reactive skin.
It's composed of 97% natural ingredients including avocado perseose, a patented ingredient designed specifically to help protect and hydrate your baby's delicate skin, and schizandra, a berry extract to naturally soothe sensitive skin.
For normal baby skin, we recommend Hydra Bebe Body Lotion. With jojoba oil, sunflower oil, vitamins E and F, and our signature avocado perseose, this non-greasy formula leaves the skin silky-smooth and moisturized.
Newborn Sponge Bath Success!
With the information here, you're ready to enjoy your newborn's first sponge bath! Follow the tips we mentioned, and sponge your little one off a few times a week to keep their skin clean.
In-between baths, turn to Certified Organic Micellar Water with Olive Oil and Aloe to keep your baby's skin clean in a pinch.
Once your baby is old enough for a bath in the baby tub, gather the supplies you need, such as our Foam Shampoo for Newborns and Gentle Cleansing Gel or Certified Organic Cleansing Gel with Olive Oil and Aloe — which can be used by the whole family! — for a relaxing, gentle clean.
And remember that while bathing your baby might be intimidating the first time, you'll be a pro before you know it!