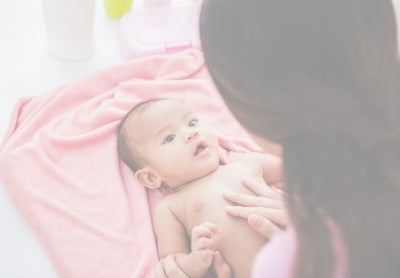 Are Parabens Safe For You And Your Newborn?
You've heard the word "parabens" before, but are you familiar with what parabens are and how they are used in day-to-day life? More importantly, do you know whether or not parabens are safe for you and your newborn baby?
As a parent, you've carefully read review after review of baby food brands before making the best choice. You've vigilantly looked over product and ingredient labels before deciding which skin care products you will use on your little one.
But have you paid attention to whether or not parabens are present in your baby's products? And before your little one even comes, do you know the significance of using (or not using) parabens during your pregnancy?
Parabens are widely used as a preservative because they are affordable, effective, and are rapidly excreted from the body. At the same time, however, studies have shown that parabens are estrogenic, meaning they mimic the effects of estrogen in your body.
As a result, parabens may contribute to fertility problems and an increased risk of breast cancer, because they are believed to disrupt your body's immune system. Parabens have also been known to disrupt baby growth during fetal gestation and the first years of life.
Before we get ahead of ourselves, though, let's take a step back. The experts at Mustela are here to break down everything you need to know about parabens and their safety when it comes to you and your baby.
What Are Parabens?
Parabens are chemicals that occur naturally in some foods. For example, the crowd-favorite (and completely safe!) fruit blueberries contain a type of paraben.
These chemicals are also used as a preservative in many products, including toiletries, cosmetics, moisturizers, shampoos, and more — even products that are marketed for newborns and babies.
Other places where parabens are often present include toothpaste, shower gels, vaginal lubricants, perfumes, indoor dust, sunscreen, lipsticks, eyeliner, bar soap, liquid soap, nail polish, and more.
Parabens In Baby Products
Parabens are often used in baby products because they are inexpensive and highly effective preservatives.
Preservatives are important because they stop mold and bacteria growth that could spoil a product — such as a bottle of baby skin lotion — or potentially harm your baby. Likewise, without preservatives like parabens, baby skin care products would have a short shelf life and would probably have to be kept in the fridge.
Parabens are also less likely to cause an allergic reaction in newborns than most other commercial preservatives. Overall, parabens seem like a decent — maybe even beneficial — chemical. Nonetheless, many brands are choosing to remove parabens from their baby products, and there are alternatives available on the market.
For example, Mustela's Hydra Bebe Body Lotion is formulated with plant-based ingredients, including jojoba oil, sunflower oil, vitamins E and F, sweet almond oil, and shea butter to hydrate your little one's skin and leave it moisturized — all without parabens.
But before we get into that, let's backtrack a little. Why are parabens, these seemingly successful preservatives, a cause for concern?
The Concern About Parabens
In your body, parabens act like the female hormone estrogen. There are some concerns that this may affect your health. For example, high levels of estrogen can increase the risk of certain types of cancer.
Of the many studies that have looked at parabens, one or more show reproductive effects that can interfere with fetus development. When it comes to you and your little one, this correlation is probably not something you'll want to overlook. That's especially true because a baby's delicate skin more easily absorbs these toxins than an adult's skin.
With that in mind, below are factors to consider when it comes to paraben product use.
Parabens Before Pregnancy
Parabens can impact all stages of conception. Both human and animal studies suggest that these chemicals may interfere with a woman's ability to become pregnant. Women who consume higher amounts of parabens have lower antral follicle counts, which are a measure of egg supply and indicate fertility.
Another study found that women with higher paraben levels in their urine were likely to have fewer children than women with lower levels.
Parabens During Pregnancy
For pregnant women, in particular, parabens are a cause for concern when it comes to makeup and skin lotions. When you use a product containing parabens, the long exposure time on your skin increases the potential for the chemicals to get under your skin and reach your unborn baby.
And, again, if certain parabens do reach your baby, there is a chance of developmental issues before your little one is even born.
One study found that pregnant mothers with the highest paraben levels had a greater chance of having a preterm birth and that babies conceived to these mothers had decreased gestational age at birth, lower birth weight, and decreased body length.
Other research has found that the male children of women exposed to parabens are more likely to develop an ill-functioning reproductive system. The baby boys in this study were found to have higher estrogen levels.
In animal studies, maternal exposure to parabens also damaged testicular structure and function in the male offspring, causing abnormalities in their sperm when they become adults.
Still, it's important to note that there isn't much scientific information on whether the use of products with parabens increases the amount of parabens that accumulate in your body over time. It's also unclear if there are more issues associated with the use of paraben products during pregnancy.
Parabens And Your Newborn Baby
In addition to reproductive problems, parabens may also cause other issues for your baby.
In a study conducted by Fairhaven Health, when baby animals were exposed to higher levels of parabens, they were found to have increased problems with social interactions, learning, and memory.
In another study, parabens led to anxiety and reduced learning performance in baby animals. But each person's body responds differently, so this information serves simply as some scientific food for thought.
The Unknown
When it comes to paraben dangers, experts are still trying to figure out exactly how parabens are absorbed into the body. More research is needed to determine what the exact effects of parabens are on moms and babies and how those effects can be reduced.
It's not known yet whether parabens have more of an effect on our babies and children than they do on adults. However, it is known that young babies are more likely to absorb parabens through their skin than older children and adults are. This is true of any chemicals, not just parabens.
Speaking of which, what other skincare ingredients should you stay away from? We'll mention two big ones before we get to how to protect you and your baby from the potentially harmful effects of parabens.
Phenoxyethanol
Like parabens, phenoxyethanol is a preservative that is used in all sorts of skincare and personal hygiene products.

However, also just like parabens, it probably isn't the safest thing to put on your or your baby's skin!

In fact, according to phenoxyethanol's Material Safety Data Sheet (MSDS), it can cause skin irritation and "may be harmful if absorbed through the skin." There is also cause for concern if it is inhaled or swallowed.

We don't know about you, but phenoxyethanol is not something we're willing to play around with. For more information about this ingredient and how to keep it away from you and your family, read our article here.
Phthalates
Phthalates are chemicals commonly used as plasticizers, which means they make plastics more flexible and durable. They're used not only in soaps, shampoos, nail polish, and the like, but also in toys, food packaging, vinyl flooring, and more.

For some cosmetics, phthalates are used to make the product less brittle and stiff. They can also be used to mask unpleasant odors and make a product's scent last longer.

But they probably aren't great for your health. We say "probably" because the scientific evidence is not yet conclusive.

There is concern that they can be endocrine disruptors, are associated with neurodevelopmental disorders in children, and may contribute to asthma and allergies in children.

Additionally, the United States Environmental Protection Agency is "concerned about phthalates because of their toxicity and the evidence of pervasive human and environmental exposure to these chemicals."

For us at Mustela, any doubt about the safety of this ingredient is enough for us to give it the boot.

Now, let's get back to parabens and whether or not they're something you should worry about.
Should You Worry About Parabens?
With so many studies and stories around, it's difficult not to worry about how parabens may affect you and your newborn's health. To err on the safe side, it's best to replace the products you and your baby use — such as baby bath washes and shampoos — to ones that are totally paraben-free.

The experts at Mustela strive to offer paraben-free, safe skincare products for babies, children, and new and expecting mothers. After all, complete safety is our guiding principle!
Protecting You And Your Baby From Parabens
Consider this: would you be prepared to take a chance on parabens unless you were 100 percent certain that they were safe for you and your baby?
If you feel safer in protecting your family by switching to paraben-free products, you're in luck! It's increasingly easy to find paraben-free alternatives, especially for babies, just like Mustela's Normal Skin Bathtime Set.
To make sure you're giving your little one (and yourself) the best chance possible against the harm parabens can cause, always check the labels on any skin and beauty products you use. Some of the more common parabens to look out for are:
Methylparaben
Ethylparaben
Propylparaben
Butylparaben
Isobutylparaben
Isopropylparaben
Before we wrap up, we'd like to make things easy by pointing you in the direction of a few great products that are paraben-free. We'll start with products for you, mom, and then mention skincare options for your baby.
Paraben-Free Skincare For Mom
Nursing Comfort Balm
Mustela's Nursing Comfort Balm is a soothing and restorative nipple cream that keeps your skin comfortable while nursing. This lanolin-free balm is enriched with vitamin E and designed to moisturize and protect your nipples.

In addition to being paraben-free, our nipple cream is made with 100% naturally derived ingredients, including olive oil and plant-based glycerin.

You can safely and confidently use Nursing Comfort Balm throughout pregnancy and while breastfeeding your little bundle of joy. Just be sure to clean your nipples before each breastfeed.
Body Firming Gel
To care for your post-pregnancy body, turn to Mustela's Body Firming Gel. This is a specially formulated post-pregnancy product that hydrates your skin, giving it a firmer look and overall feel.

Made with avocado peptides, centella asiatica, and sophora japonica, this light and refreshing gel is easily absorbed by the skin, hypoallergenic, 100% compatible with breastfeeding, and safe for both mothers and babies. And, of course, it's paraben-free!

Simply apply this gel both morning and night (for at least one month) by rolling and massaging it into your skin. If you brought your baby into the world by C-section, wait a few weeks before applying Body Firming Gel to the scar area.
Stretch Marks Cream
To help reduce the appearance of stretch marks, use Mustela's fragrance-free and paraben-free Stretch Marks Cream. This velvety yet hard-working cream is specifically formulated to deliver hydration, nourishing and moisturizing the skin and leaving it comfortable and smooth.

And because this cream is free of harmful chemicals and EWG Verified™ (meaning that it avoids EWG's ingredients of concern and is committed to full transparency), it's safe for use during pregnancy and postpartum.

Not only did we leave out questionable ingredients, but we've also filled this cream with 97% naturally derived ingredients such as avocado peptides, avocado oil, maracuja polyphenols, and hamamelis plant extract.
Paraben-Free Skincare For Your Baby
Organic Hydrating Cream with Olive Oil and Aloe
We've listed it under baby skin care, but Mustela's Organic Hydrating Cream with Olive Oil and Aloe isn't just for the little ones. This lightweight, restorative cream leaves both baby and adult skin soft, supple, and hydrated, so you can take care of the whole family!

It's fragrance-free, paraben-free, and crafted with 99.6% naturally derived ingredients, including organic ingredients like aloe vera, sunflower oil, and olive oil.

These powerful natural emollients work together to keep skin moisturized while still being gentle enough to use on your baby's delicate skin.

Another reason we love this product is that it's designed to be eco-friendly inside and out. The packaging is made from sustainably sourced sugar cane, and we've gotten rid of secondary cartons. Good for your family and good for the earth!
Gentle Shampoo
It's important to have baby bathtime basics that are effective, safe, and paraben-free. Say hello to Mustela's Gentle Shampoo! Made for babies with normal skin, this tear-free shampoo cleans without stripping the scalp of its natural oils.

It's hypoallergenic and composed of 93% plant-based ingredients, including Chamomile extract to soften and detangle and Avocado Perseose, a patented natural ingredient specifically designed to help protect and hydrate dry scalps.

Just apply a small amount of shampoo to your baby's wet hair and gently massage their head. Then easily rinse the shampoo out.
Baby Oil
It turns out baby oil isn't just for babies anymore (read about more uses here!). However, Mustela's Baby Oil still fits the bill for a baby massage that will moisturize their skin and help stimulate your baby's senses to relax and prepare for bedtime.

Composed of 99% plant-based ingredients and enriched with an elixir of pomegranate seed oil, sunflower seed oil, and avocado oil, this oil blends effortlessly into the skin, creating the ultimate soothing and comforting massage experience for your baby.

Baby massage offers lots of benefits for your little one, like better brain development, improved focus, better sleep, and bonding time for the two of you! To find out more about baby massage and how to give one, click here.
No Rinse Soothing Cleansing Water
Keep babies with sensitive skin clean on-the-go with Mustela's No Rinse Soothing Cleansing Water. Ideal for in-between bath time and on-the-go, this micellar water thoroughly and gently cleans your baby's face, body, and diaper area while also working to soothe very sensitive skin.

It dissolves dirt and impurities to cleanse your baby's skin without stripping it of natural oils. All you have to do is apply No Rinse Soothing Cleansing Water to your little one's skin using a soft cloth or cotton pad, then pat them dry.

With this product, there's no need to rinse with water, making it perfect for traveling or busy days! And, just like the other products we've mentioned, you can count on this one to be paraben-free, too.
SPF 50 Mineral Sunscreen Lotion
For safe, effective sun protection, lather your little ones with paraben-free SPF 50 Mineral Sunscreen Lotion. This fragrance-free mineral sunscreen is formulated with mineral UV filters instead of chemical UV filters like oxybenzone, avobenzone, octisalate, octocrylene, homosalate, and octinoxate.

But it doesn't stop there. It's also made with 93% naturally derived ingredients, like coconut oil and macadamia oil, to hydrate your family's skin while protecting it from the sun's harmful rays.
Stelatopia Cleansing Gel
The last baby product we'll mention is made with eczema-prone skin in mind. Gently cleanse your baby's easily irritated skin with Mustela's Stelatopia Cleansing Gel. This product envelops itchy, dry skin in a hydrating barrier, keeping it moisturized and soothed.

The pH-balanced formula mitigates the drying effects of bathing, while the gel-cream texture soothes and hydrates, leaving eczema-prone skin soft and comfortable.

Plus, our tear-free, paraben-free formula is gentle enough to use on newborns, yet effective enough for toddlers and older children!
Paraben-Free For The Whole Family
Staying informed about the potential side effects of paraben use before conception, during pregnancy, and directly on your baby is essential to protecting your child from potentially harmful chemicals.

With the information in this article, you're ready to make informed decisions about your and your baby's skin care. Play it safe and choose paraben-free products for the whole family.

New moms can turn to Mustela's Nursing Comfort Balm and Body Firming Gel to moisturize and protect their skin. And care for your baby's skin with paraben-free products like Mustela's Baby Oil, Gentle Shampoo, and Organic Hydrating Cream with Olive Oil and Aloe.

As always, keeping you and your little one happy and healthy is of the utmost importance in everything you do!