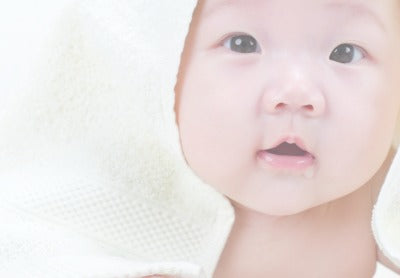 Drool Rash: Causes, Symptoms, Treatment, And Prevention
Drooling is common among babies, especially when their teeth start to come in. It is typically not a cause for concern, but sometimes excessive drooling can irritate your baby's skin and cause a drool rash.
Mustela's baby experts discuss the causes and symptoms of drool rash as well as the treatment and prevention methods for this skin concern so that your little one can stay comfortable and happy all day long.
Drool Rash Explained
A drool rash results from too much saliva on the surface of your baby's skin and can show up around their mouth and cheeks, in the folds of their neck, or on their chest.
A drool rash is not contagious and is not linked to any serious medical conditions. However, it may make your baby uncomfortable and can become painful. The good news: it usually disappears when your baby is 15 to 18 months old, and there are ways to treat and prevent drool rash.
Causes Of Drool Rash
Your baby's skin is delicate and prone to rashes, such as heat rash, eczema, baby acne, and so on. This makes it difficult to determine the culprit of the rash. Check out possible causes of your baby's drool rash listed below.
Teething
Drooling is a common side effect of teething. When your baby is teething, they are constantly gnawing on their hands or a teether. As a result, the saliva from the inside of their mouth will drip down the sides of their face, into the folds of their neck, and sometimes even down to their chest.
Pacifiers
Saliva drips from your baby's mouth when they suck on their pacifier, which isolates the drool to that one area. When the saliva is locked into place by the pacifier, a drool rash is likely to occur since that area is not getting any air.
Food
If smeared food is left on your baby's face for too long, this may cause a drool rash to develop around their mouth. To prevent this, keep Cleansing Wipes nearby to wipe away any residue left from eating.
Symptoms Of Drool Rash
You can identify drool rash by its flat or slightly raised patches with red bumps that may appear chapped and will be located in the places we mentioned above: mouth, cheeks, neck folds, chest.
Treatments For Drool Rash


Clean The Affected Area Twice Per Day
To treat your baby's drool rash, clean the affected area twice per day.
Try Mustela's No Rinse Cleansing Water, which is ideal for in-between bath time or when you're on the go. It thoroughly cleanses your baby's face and body while softening their skin. The best part: no need to rinse with water!
If you're not on the go, wash the affected area with Mustela's Gentle Soap With Cold Cream and water. It gently cleanses the face and body of newborns and babies, making it the perfect soap to keep your baby's skin drool-free throughout the day.
Remember to pat your little one dry after washing because rubbing may irritate their sensitive skin even further.
Apply A Soothing Cream
After the affected area is clean, apply a soothing cream that delivers moisture to your baby's delicate skin. Mustela's Cicastela Moisture Recovery Cream is what you're looking for when it comes to treating your baby's drool rash.
This natural ointment relieves discomfort in irritated areas by delivering cooling hydration to your little one's skin. It is a safe, multi-purpose ointment for soothing relief from head to toe.
Use A Gentle Baby Wash At Bath Time
To help further treat your baby's drool rash and prevent it from coming back, use Mustela's Sensitive Skin Bath Time Set. This exclusive bundle is formulated with natural ingredients to soothe and protect your baby's sensitive skin. The set includes our Soothing Cleansing Gel and Soothing Moisturizing Body Lotion.
Soothing Cleansing Gel
Mustela's Soothing Cleansing Gel safely and effectively cleans your baby's hair and body while working to soothe their skin. Its fragrance-free formula is designed for babies and children with very sensitive and rashy skin.
As you can see, the Soothing Cleansing Gel is perfect for cleaning the areas of your baby's skin affected by drooling!
Soothing Moisturizing Body Lotion
After washing and cleansing with our Soothing Cleansing Gel, gently massage the Soothing Moisturizing Body Lotion onto your baby to protect and relieve their sensitive skin. Just like the cleansing gel, it's made from a fragrance-free formula that is specifically designed for sensitive and rashy skin.
Bath time is a time of relaxation and play for your little one! Enhance bath time with Mustela's Multi-Sensory Bubble Bath for a special time of bonding between you and your baby. These foaming bubbles make baths therapeutic and fun while protecting and hydrating your baby's skin.
Avoid Irritating Substances
Now is probably not a good time to switch up laundry detergents, as you wouldn't want to further irritate your baby's skin. Avoid harsh soaps and scented lotions, and indulge in gentle, soothing soaps and lotions instead, such as Mustela's skin care products.
For example, Mustela's Cicastela Recovery Cream is something you'll want to keep stocked. This fragrance-free, multi-purpose recovery cream soothes skin and targets any discomfort accompanied by a drool rash.
Prevention Of Drool Rash
Put A Bib On Your Baby
If your baby is drooling to the point of soaking their shirt, go ahead and put a bib on them. Make sure to change out their bib as soon as it becomes wet.
The bib will protect their chest by catching any drool, and it can be used to gently wipe the drool away.
Keep Your Baby's Skin Clean And Dry
Keeping your baby's mouth, cheeks, folds under their neck, and their chest clean and dry is the best prevention method for a drool rash. These areas are especially delicate and sensitive, making them susceptible to irritation. Use Mustela's Certified Organic Water Wipes with Cotton and Aloe to gently wipe and clean these delicate areas.
Always keep Mustela's Bebe On The Go with you. It's a trio of travel-sized essentials to keep your baby clean and hydrated. It allows for easy bathing, hydration, and clean-ups for — you guessed it — on the go.
So even if you're out and about and need to quickly clean your baby's face and neck throughout the day, Mustela has you covered! Stay proactive in keeping your baby's face and neck clean to help prevent a drool rash from occurring.
Offer A Teething Ring or Cold Washcloth
If you suspect your baby's drooling is caused by teething, offer something cold for their gums. A teething ring or a cold washcloth are good places to start when trying to control drooling caused by teething. The coolness will soothe their swollen gums and even provide relief if they already have a drool rash.
You may notice your baby still drooling even after offering a teething ring or a cold washcloth. Make sure to pat the area dry after use and apply a moisturizer, like our Soothing Moisturizing Face Cream, to protect their sensitive skin.
When To See A Doctor
As we mentioned at the beginning of this article, a drool rash is not contagious and is not linked to any serious medical conditions. However, reach out to your child's pediatrician if you notice any of the following symptoms in your baby:
Fever
Difficulty breathing or swallowing
Refusal to eat
Unusual fussiness or irritability
Also, if you notice the rash getting worse or if it appears to be severe, make a phone call to the doctor right away.
Drool Rash: Summary
Your baby's drool rash can be a source of discomfort. Whether teething, a pacifier, or smeared food left on your baby's face is the culprit, washing the affected area will help treat the rash.
Remember to apply a soothing ointment and use a gentle baby wash, like that in our Sensitive Bath Time Set, at bath time.
Keep the delicate areas of your little one's face and neck clean and dry, and use Mustela's gentle line of skin care products to wipe away drool. When you follow these steps, your baby will be comfortable and rash-free!