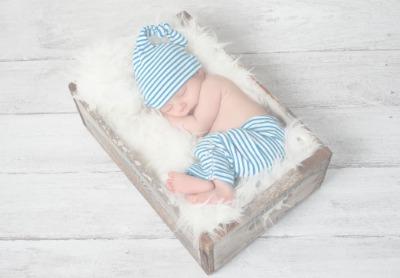 How To Prepare For A Baby: The Complete Guide For Parents
You saw those two pink lines that show you're expecting. Congratulations! We're sure you have questions and concerns about the next nine months and after. Rest easy because the baby experts at Mustela are here with a complete guide on how to prepare for a baby to help you and your significant other during this exciting time!

How To Prepare For A Baby: Your Body
Take Care Of Yourself

First and foremost, take care of yourself. This includes getting ample sleep and exercise. Know your limitations. This is not the time to do it all.

Pay close attention to what you're putting into your body since you're now eating for two! Make eating healthy a top priority not only for your own health but also for your baby's.

Take Your Prenatal Vitamins
Prenatal vitamins are supplements that contain daily vitamins and minerals you need before, during, and after (if you decide to breastfeed) your pregnancy. Check the label of your prenatal vitamins for the following:
No more than 800 mcg of vitamin A

At least 400 to 600 mcg of folic acid (folate)

250 mg of calcium

30 mg of iron

50 to 80 mg of vitamin C

15 mg of zinc

2 mg of copper

2 mg of vitamin B6

At least 400 IU of vitamin D

15 mg of vitamin E

1.4 mg of thiamin

1.4 mg of riboflavin

18 mg of niacin

2.6 mg of B12

May also include: magnesium, fluoride, biotin, phosphorus, pantothenic acid, extra B6, and baby brain-boosting DHA
Talk to your doctor to determine the best prenatal vitamin for your body.

Relax
We're sure you have several questions running through your mind. This is totally normal. Remember to relax and avoid overdoing it. Listen to your body — it will let you know when it's had enough.

Ask Questions
Don't hesitate to ask questions...better yet, ask away! Seek out veteran mothers if this is your first baby. And even if it's not, it's still beneficial to talk with other moms and get advice.
If you have health concerns, reach out to your obstetrician immediately. No worry is too small.
How To Prepare For A Baby: Your Relationships
Connect With Your Partner
Varying emotions are part of pregnancy. Make sure you talk with your partner about what you're going through and what you're feeling. Also, ask how your partner is doing. They may be dealing with some new emotions during this time as well.
Get away during your second trimester with your significant other for a babymoon. This is a time to reconnect with each other and disconnect from reality for a few days. Make one another feel special before your little one arrives!

Talk With Your Older Child(ren)
If this isn't your first pregnancy, prepare your older children for the arrival of your baby. Visit your local library and find books that discuss welcoming a new baby into the family. Plan a special outing with just the two of you before your little one makes their arrival.
If you have more than one child at home, make sure to plan a special outing with each of them individually.

Set Up A Support Team
Having a support team is crucial, especially after the arrival of your new little one. Find a few people you are close to who you can confide in. Sometimes all you need is a listening ear.
Now is also the time to make preparations for meals and arrangements for other children and pets in your home. Your support team will be the ones you rely on during your pregnancy and, especially, after giving birth.
How To Prepare For A Baby: Your Finances
Determine Medical Costs
You'll visit your obstetrician quite frequently during your pregnancy, so check in with your insurance company to plan out the costs of your routine doctor's visits as well as the cost of delivery. Also, confirm medical coverage for your baby after birth.

Plan Maternity Leave
It's completely up to you when you feel comfortable telling your employer that you're expecting. But when you do, go ahead and start discussing maternity leave.
You'll both be prepared by knowing how long you plan to stay out of work. Discuss your options with your employer and significant other if working from home or staying at home is something you desire.

Research Daycare Costs
It's important to determine childcare arrangements prior to delivery. You can tour centers and ask questions before your little one arrives. Decide if a trusted friend or family member will keep your baby instead of a traditional childcare center.

Buy Baby Products In Bulk
There are some baby items you know that you'll need, such as diapers, wipes, and skin care items. These are the things to stock up on now. When doing so, consider buying bundles of the products rather than purchasing them one at a time to cut down on costs.
How To Prepare For A Baby: Your Home
Set Up The Nursery
If this is your first baby, you've only ever dreamed of what a nursery would look like. Well, the time is finally here to embrace that dream! Research baby gear with your partner, such as gliders, cribs, changing tables, and dressers.
Together, decide what essentials you need. Below is a list of items for your nursery that you'll want to stock up on:
Mustela's Bath Time Essentials Set
The Mustela Bath Time Essentials Set provides you with all the bath time basics. It includes four important plant-based skin care products to keep your baby clean and moisturized during and in-between baths. Here's what you'll find:
Mustela's Cleansing Wipes
These gentle, one-step cleansing wipes are great for your little one's delicate skin. They can also be purchased in a bundle pack.
Mustela's Cleansing Wipes are infused with the highest quality all-natural ingredients, making each wipe ideal for both you and your baby.
Mustela's Diaper Rash Cream 123
At each diaper change, Mustela's Diaper Rash Cream 123 prevents irritation and relieves redness. It also works in-between diaper changes to prevent any further rash occurrences.
Mustela's Foam Shampoo For Newborns
Our Foam Shampoo For Newborns is gentle and tear-free. Gently massage your baby's hair and scalp with the foam shampoo to cleanse and rinse away flakes associated with cradle cap.

Baby-Proof Your House
An idea to start out with includes covering your outlets. Once your little one is on the move, sockets are in perfect proximity for their curious little hands. Next, remove any chords that are visible to avoid chances of tripping or pulling on. This includes plug-ins and blind chords.

Create Zones
Before your little one arrives, set up zones in your home. For example, arrange a quiet, dark area where your little one can sleep and nap. Prepare an area in your home that's convenient for diaper changes, such as a changing table.
Choose a peaceful area in your home for feedings. No matter if you're breastfeeding or bottle-feeding, you'll want a space that's free from distractions.
Finally, set up a play zone in your home. When you first bring your little one home from the hospital, there will be more sleeping than playing! But, before you know it, they'll be on the move! Having a designated play area with mats and toys will help you both transition.
How To Prepare For A Baby: The Birth Of Your Baby
Pack Your Hospital Bags
Plan to have your bags packed and ready to go by 36 weeks. Remember to pack the essentials for during and after delivery for you and your baby. Also, remind your significant other to have their bags ready to go as well.

Set Up A Birth Plan
Prepare yourself for labor and delivery, whether that includes vaginal delivery, Cesarean delivery, home birth, or hospital birth. Know what you want ahead of time, but also be mindful that things happen and you'll need to stay flexible. Also, remember to plan out who you want to attend the birth.
Making these decisions ahead of time will eliminate confusion and prevent unnecessary stress.

Properly Install The Car Seat
Before you and your baby can leave the hospital, your baby will have to pass the car seat test. Properly install your baby's car seat around 36 weeks.
Visit a local police station for a routine car seat inspection to make sure it's properly installed!
Sit Back And Enjoy
Now you know how to prepare yourself and your relationships for the arrival of your baby. You are prepared financially and your home and nursery are ready to welcome your little one.
The bags are packed and the car seat is installed. So sit back, relax, and enjoy!