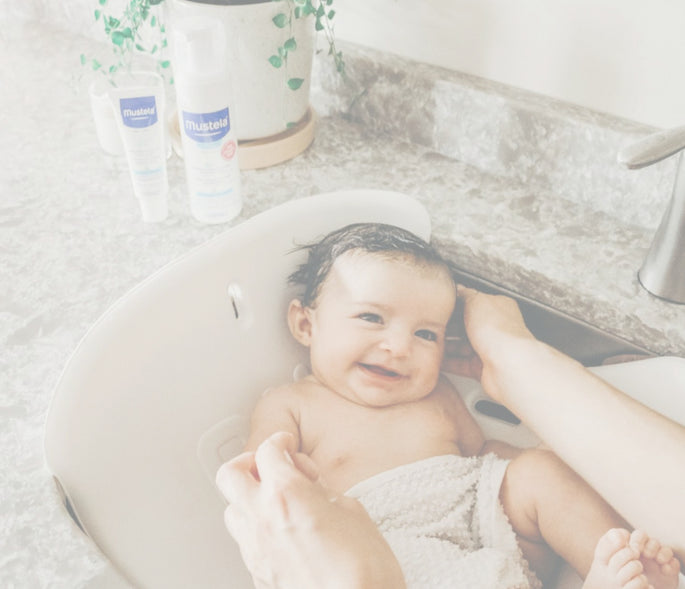 Baby Bathing 101: A Complete Guide To Bathing Your Newborn
Your sweet little baby is ready for their first bath, but you're nervous. You probably have all sorts of questions about what you need, how to do it, and how to keep them safe. Although it can seem daunting at first, baby bathing is easier than you think!
In this article, we'll tell you everything you need to know about bathing your baby — from the right water temperature, to how to hold your little one, to how to make this daily routine fun! Follow our guide, and your baby will be splashing up a storm in no time!
Table Of Contents
Baby Bathing Basics: Where And When To Bathe Your Newborn
Baby bathing is something you'll do quite frequently, so you'll want to first figure out where and when is best to set this new routine.
Tub, Sink, Or Baby Bath?
There's no one answer to this question. When it's time to bathe your baby, find a safe spot that's comfortable and convenient enough for you to do it in. Many parents prefer a small baby tub that fits in the sink.
By bathing the baby in the sink, you don't have to kneel by the tub. Instead, you can stand comfortably as you wash your little one. Just be mindful of any sink faucets and remember that sinks can be slippery!
If you don't have a good sink set up, then get an infant bathtub to put in your bathtub — and a cushy elbow and kneeling pad.
When To Bathe A Newborn
Bathing Before And After Baby Loses Their Umbilical Cord
Before your baby loses the stump of their umbilical cord — normally at about one to two weeks — the American Academy of Pediatrics recommends that you stick with a sponge bath.
To give your baby a sponge bath, first lay them on a flat surface, preferably on a cushy towel. Then, dip a washcloth into a bowl of warm water and wipe them gently from head to toe. You can use a little mild soap.
You'll want to focus your cleaning on creases in the skin, their eyes, ears, fingers, toes, and, of course, their diaper area. Keep this up until they lose their umbilical cord stump. After that, it's tub time!
Bathing Morning, Noon, Or Night?
There's no hard and fast rule as to when to bathe the baby, but it's best to do it when you have the time to relax into the routine. If you bathe baby in the morning, they'll be alert and ready for some fun.
At night, on the other hand, baby bathing could be part of your wind-down ritual to get them calm and ready for bed.
Setting The Right Routine
The best advice is to make bath time part of your weekly routine. Yes, we said weekly. You don't have to bathe baby every day — let's face it, it's not like they're getting sweaty or dirty at this point (this will change!). A good rule of thumb is three baths a week.
More than that can dry out your little one's delicate skin.
Baby Bathing Basics: How To Bathe Your Newborn
The Set Up
Getting The Right Water Temperature
When baby bathing, the water temperature is important. You'll want to try to get it warm but not hot — about 100 degrees Fahrenheit.
It's good to have a temperature gauge for your tub, but even if you have one, always check with your own hand before putting the baby in the water.
Filling The Tub To The Correct Water Depth
The rule of thumb for bathing a baby is to fill the tub with about two inches of water. Even this small amount of water can be dangerous, so it's essential that you're fully focused on the baby and always have a hand on them.
Never turn your back, walk away, or leave your little one alone in the water.
Preparing The Essentials
You'll need to gather all of your products before bringing baby into the bathtub. These include:
Our Bathtime Essentials Set has all the product essentials you need to keep baby clean and moisturized during and in-between bathtime.
The Steps

You've chosen your tub and prepped all of your essentials. Now, you're ready to give your baby their first real bath.
Holding A Newborn
It's important to hold your baby securely when you're bathing them. This will make them both comfortable and safe. If you're a righty, use your left hand to support baby's head and neck, and if you're a lefty, use your right.
Your dominant hand should be used to guide baby into the water feet first. Don't be surprised if they protest a little at first. All of this is new and strange for your little one! Be brief and be as gentle as possible.
You can always toggle between regular baths and sponge baths until your baby is more comfortable.
Cleaning Your Baby
You'll want to clean your little one starting from the head to the toes. As with the sponge bath, focus on crevices in the skin where any dirt or sweat is more easily trapped. As baby won't be submerged, you'll want to pour warm water over their body frequently to avoid them getting a chill.
In addition, don't use a lot of soap and wash it off promptly. Too much soap exposure can dry out their delicate baby skin.
Washing Their Hair
When washing your little one's hair, use a gentle shampoo, like our ultra-gentle Foam Shampoo for Newborns.
Massage their scalp gently and be sure to protect their face when you rinse to avoid getting any product in their eyes. If you do, use a wet washcloth to gently wipe their eyes with plain water.
Between Baths: Topping And Tailing
In-between baths, you might go back to sponge baths or just topping and tailing. Topping and tailing is like a sponge bath where you focus on the head, face, and neck (the top), as well as the diaper area (the tail).
Use moistened cotton pads for the "top" — a new one for each new area you clean. For the "tail," you might want to use a mild liquid cleaner or unperfumed baby wipes.
After The Bath
Drying Baby Off
Lie baby flat on their hooded towel and put the hood over their head, wrapping the sides to keep them warm. Be gentle as you pat baby dry.
Applying Lotion
While your little one's skin is still damp, apply a small amount of moisturizing lotion to prevent dry skin or eczema.
Massaging Baby
After the bath is a nice time to practice baby massage. Use a light, natural oil that will be smooth and not sticky. Rub it between your hands, and then rub baby gently in smooth strokes and circular motions.
A Note On Making Bathtime Fun
 
Although the youngest babies don't need bath toys (the water and experience of being bathed are stimulating enough), when your baby gets their sea legs and starts enjoying bathtime, it's fun to add a couple of simple toys for stimulation.
Generally, the introduction of toys goes hand and hand with head and neck control. Colorful activity toys help challenge their hand-eye coordination and build fine motor and problem-solving skills.
Stay away from toys that can get water in them through any holes as these can harbor mold, mildew, or other bacteria. If you're set on a squirty toy, choose one that can be taken apart to thoroughly dry.
Time To Splish-Splash!
It's no surprise that bathing your baby for the first time can make you anxious. But after reading our guide on bathing your newborn, you should be ready to take on the tub. With all of your new skills in baby bathing, you can focus on enjoying this special bonding time.
The Mustela suite of gentle products for baby baths, like our Gentle Cleansing Gel or, if baby is eczema-prone, our Stelatopia Cleansing Gel and Oil, will help you get your little one squeaky clean.
Follow the bath up with our Organic Hydrating Cream With Olive Oil and Aloe to leave your baby's skin extra soft and supple. And don't hesitate to use our products for you, too!
Think of Mustela as your whole family's skin solution for bathtime and beyond.