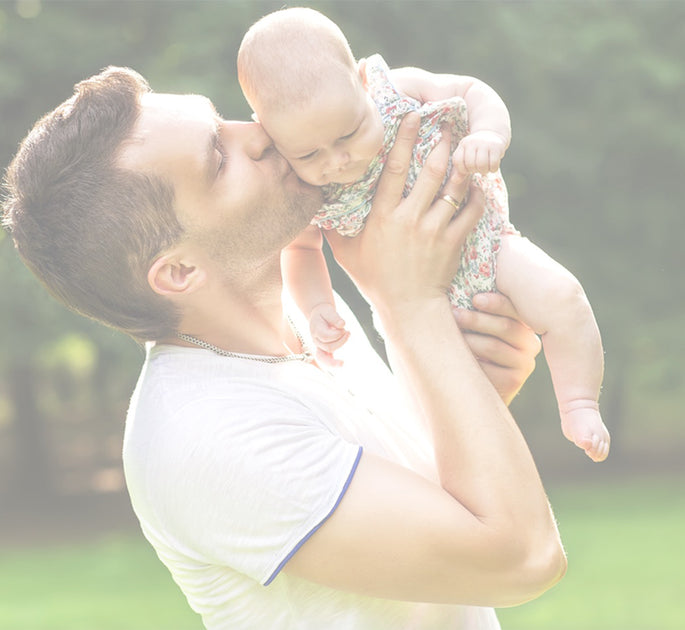 Preparing For Fatherhood: 13 Ways To Make Sure You're Ready
Being a dad is an incredible journey filled with ups and downs, joys and challenges. As you eagerly await your first child, you may be filled with excitement as well as all sorts of questions. If you're wondering how you can start preparing for fatherhood, keep reading.
We'll offer a few suggestions for how to get ready for a new member of the family and your role as a father. From setting up the nursery to thinking through the type of dad you want to be, with these tips, you'll feel a bit more prepared for what's to come.
Table Of Contents
Preparing For Fatherhood: 13 Tips
1) Take A Parenting Class
Whether you're adopting a child or your partner is pregnant, your role as a dad is and will be essential in your little one's life.
No one can teach you everything you need to know about parenting or being a father, but taking a parenting class equips you with knowledge, tools, tips, and tricks to get you started.
You can learn how to engage with your child, develop positive discipline techniques, encourage play, hold a baby, soothe a little one, change a diaper, and so much more. For a leg up in the parenting game, find out what sort of classes are offered in your area.
If your partner is pregnant with your little one, it's also helpful to learn what to expect during childbirth and how you can be supportive.
In addition to taking a parenting class, educate yourself by reading parenting books and getting some real-life experience by hanging out with your friends' kids!
2) Create Your Role
As you prepare for fatherhood, remember that you get to choose what type of dad you want to be. Whether your partner is having a baby, you're adopting, or you're co-parenting, you can choose how to be a dad.
Regardless of your experience with your father, create your own role when it comes to parenting your kids. If your dad was a great role model, reflect on the specific aspects you want to imitate. If your experience was less than ideal, think about how you want to be different.
You have the power to decide how you will show up. This is your role, and you can be there for your little one no matter what your situation looks like.
3) Take Care Of Yourself
Expecting a baby is a joyful time, but it comes with its fair share of stressors as well. Take care of yourself physically, mentally, and emotionally.
Emotional support is one of the most important factors on this list, especially if the new-parent worries become overwhelming or you get lost in negative thoughts about your own dad.
Building a healthy lifestyle now is a good way to create lasting habits that will set a good example for your child.
This is also a good time to learn about yourself and how to effectively calm down. Trust us — when you have a baby in your home, knowing how to keep your cool is important.
4) Discuss Parenting Styles
If you aren't doing this parenting thing alone, talk with your partner. Make sure you're on the same page by communicating thoroughly and honestly about parenting styles, discipline, childcare preferences, division of work, and the like.
And if you're not on the same page or you're co-parenting with someone who doesn't live in your home, these conversations are even more important so that you can understand each other and come to an agreement.
5) Turn To Friends And Family
Fatherhood is full of surprises, and knowing the right parenting theory will only take you so far. As the saying goes, "It takes a village to raise a child." You'll want and need the support of your crew.
At some point in your parenting adventure, you'll need an extra pair of hands to save the day or some solid advice on how to deal with a specific issue. Strengthen your support system, and don't hesitate to turn to friends, family, and fellow dads for help and support.
6) Set Up The Nursery
To welcome a new child into your home, you and your partner will need to set up the nursery (for a baby) or the bedroom (for an older child) together, complete with everything the new member of your family will need.
This could mean painting, shopping, assembling furniture, and everything in-between. Just make sure everything is finished and in place before your child is expected.
Click here for a few tips on preparing your baby's room.
7) Prepare Your Home
While your little one's nursery or bedroom takes priority, it's a good idea to get the rest of the house ready, too. Before the arrival of your child, you may want to deep clean the whole house and start baby-proofing.
Share these responsibilities with your parenting partner, and then discuss sharing additional responsibilities you'll have once the baby comes.
8) Purchase Baby Supplies
Baby supplies you'll likely need include pint-sized clothing and pajamas, linens, diaper-changing supplies, feeding essentials, travel and first-aid items, and skincare products such as baby lotion, shampoo, and wipes.
For an effective moisturizer with natural ingredients, opt for our Hydra Bebe Body Lotion or, if you prefer an organic option, Certified Organic Hydrating Cream with Olive Oil and Aloe.
Our Gentle Cleansing Gel and Foam Shampoo for Newborns will take care of bath time.
With a unique and ultra-gentle formula, our Foam Shampoo for Newborns is specially made to cleanse your baby's hair and scalp while minimizing cradle cap flakes. (What is cradle cap, exactly? Find out here.)
Rest easy — it's hypoallergenic, free of fragrance, parabens, phthalates, phenoxyethanol, and made with 99% naturally derived ingredients.
Read our article on the newborn baby essentials to be sure you've got everything you'll need.
9) Prepare Financially
Providing for your child goes far beyond money. It includes being present and caring for your little one. But we can't talk about preparing for fatherhood without mentioning the financial piece.
Prepare financially by taking a look at what your health insurance covers, understanding paternity and maternity leave at work, checking into daycare costs, and estimating monthly out-of-pocket needs.
That's in addition to counting the cost of outfitting the nursery. To help with this, don't forget to set up a baby registry to allow your friends and family to pitch in!
10) Stock The Pantry And Freezer
Here's a very practical way to prepare for the first couple of weeks of fatherhood: Stock the pantry and freezer.
With meals in the freezer and a pantry full of the necessities (as well as your favorite snacks!), the first weeks with your newborn will be a bit less stressful.
11) Support Your Partner
If your partner is pregnant with your baby, support her in whatever way you can. This is particularly important throughout pregnancy as well as during the fourth trimester when she'll be recovering.
Note: Remember that postpartum depression can happen to any mother, so encourage her to seek help if you notice any signs after the baby's born.
If the new mother is breastfeeding, help her care for her hard-working body with our Nursing Comfort Balm. This soothing and restorative nipple cream will help keep her skin comfortable while she's nursing.
Be sure to invest in and support one another by focusing on your relationship in addition to dreaming about your new little one together. This also applies if you're adopting a child. Strengthen your bond as you prepare to welcome the new addition into your family.
12) Prepare Yourself Mentally
Preparing for fatherhood includes preparing mentally for what being a new dad entails.
You can't anticipate exactly how things will be, but it's helpful to wrap your mind around the idea that you won't get as much sleep, your habits will change, you'll have new responsibilities, and there may be a change in your sex life.
If you mentally prepare for some of these changes, it'll be easier to roll with the punches.
13) Be Flexible
Here's the last tip on preparing for fatherhood: Be flexible. Know that you will never be "ready" for all that fatherhood brings — more joy and love than you can imagine as well as challenges you never planned for.
Be flexible, expect the unexpected, and maintain a sense of humor no matter what comes. And don't forget to celebrate the milestones of this incredible journey that you and your little one are on!
Preparing For Fatherhood One Step At A Time
Preparing for fatherhood includes relational work, like investing in your partner (treat her to our Nursing Comfort Balm) and deciding what type of dad you want to be. It also includes practical work, like stocking up on baby supplies such as Hydra Bebe Body Lotion and Foam Shampoo for Newborns.
As you get ready to welcome your baby, remember that flexibility will be key. You and your little one will learn together!
Take fatherhood one step at a time and get excited about what's ahead: years of growth as a parent and wonderful adventures with your precious child.