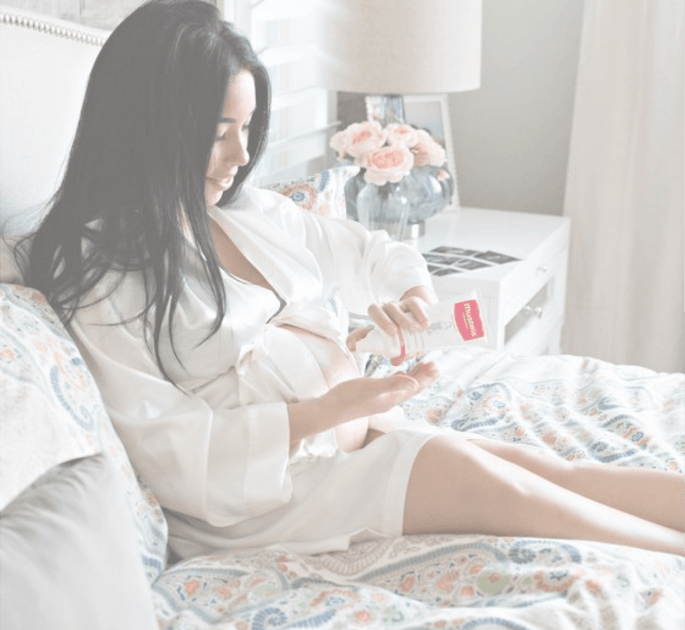 Itching During Pregnancy: Causes and Treatments
Itchy skin during pregnancy can drive you crazy! Your clothes make it worse by constantly rubbing against those itchy patches. You can barely concentrate because you're trying to resist the urge to scratch.
Believe us, it's no fun at all. As unpleasant as this itchy skin is, when you get right down to it, it's really no surprise that it happens when you become pregnant.
In this article, we'll start by explaining why itchy skin is happening to you, and then we'll give you eight ways to treat it so you can sit back, relax, and enjoy your pregnancy.
Why Your Skin Becomes Itchy
Almost immediately after you get pregnant, your body starts to produce and release hormones that get you ready for the nine months ahead. These hormones can cause your skin to feel tight, rough, and itchy and can even slow your circulation slightly over time.

This decreased circulation, in combination with your skin stretching to accommodate the baby (hello, stretch marks!), can leave your skin irritated and dry.

While most of the time, itchy skin during pregnancy is just that and nothing more, sometimes it can be caused by a rash or other skin condition.

For example, if your itchiness started as tiny, itchy, pink or red bumps in your stretch marks and spread into a red, itchy rash, you may have something called PUPPP pregnancy rash. Another itchy pregnancy skin condition is called pemphigoid gestationis (PG).

If you think you may be dealing with one of those conditions, talk to your doctor.

But if plain old itchy skin is what's plaguing you, you don't have to suffer through it! Mustela's got you covered with the eight best ways to treat itchy skin during pregnancy. Let's take a look.
8 Ways To Treat Itchy Skin During Pregnancy
1) Moisturize Itchy Skin For All-Day Relief
Moisture is extremely important for your skin —especially when you're pregnant. It helps maintain your skin's elasticity and keeps your skin healthy throughout all the hormonal changes.
Most importantly, maintaining the moisture balance in your skin helps you stay comfortable and better able to deal with morning sickness, back pain, and fatigue.
Begin applying a moisturizer as soon as you know you're pregnant to prepare your skin for the changes to come. We recommend choosing a product like Mustela's Body Firming Gel to keep your skin hydrated and feeling great.
This light and refreshing gel is specially formulated with expecting and new mothers in mind. That means it's also safe to use while you're breastfeeding! It's soothing for you and safe to use around your new baby.
Continue to apply a moisturizer over the next nine months, even if your skin doesn't itch. It's often easier to prevent itchy skin than it is to treat it once it's formed.
Coconut Oil
Use coconut oil as another option for moisturizing. It seeps into your skin to reach the dry parts and provides a layer of moisture to improve skin hydration. Another bonus of coconut oil is its antimicrobial properties, which are beneficial for treating inflammation or skin irritation.

So grab a handful of coconut oil and start massaging to relieve your itchy skin!
Aloe Vera Gel
Just as you would with coconut oil, massage aloe vera gel onto your itchy skin to find relief. Grab a leaf from an aloe vera plant and cut it on its side to obtain the gel from the plant, which you can then apply directly to your skin.

The hydrating and moisturizing components in aloe vera gel give your skin the moisture it needs during your pregnancy. Your skin will be soft, and the gel will soothe your itching.

Bonus: Aloe vera gel is also beneficial for babies! Use it to help relieve minor burns, cuts, scratches, rashes, and insect bites. Stock up on Mustela's organic collection made with aloe and olive oil to prepare for your little one's arrival!

Our Organic Hydrating Cream with Olive Oil and Aloe will be especially helpful once your baby makes their debut. This lightweight, restorative cream is great for the whole family, from newborns to moms-to-be!
2) Create A Baking Soda Paste
One home remedy that works well to ease itchiness? Making a baking soda paste and applying it to the itchy areas of your skin.

The paste will restore balance to your skin, which is crucial for keeping it healthy. This is known as the pH balance. Your skin's pH balance results from a thin, protective layer on the surface — the acid mantle.

This layer protects your skin from bacteria and allergens while also maintaining moisture. So you can see why it's important for your skin to maintain a healthy pH balance.

As if restoring your pH balance wasn't enough, a baking soda paste can also treat any redness or irritation that accompanies your itchy skin during pregnancy.

The great news is that baking soda paste can be whipped up in the blink of an eye!

Mix a couple of spoonfuls of baking soda with water until it forms the right consistency. Then apply it to your skin and let it sit for 10 or 15 minutes. After, rinse it off with water, being careful not to scratch or irritate your sensitive skin.
3) Wash With Warm Water Instead Of Hot Water
Hot water is great at keeping your skin free from dirt and contamination. However, it can severely dry your skin, not to mention that it is also bad for your baby.
Hot showers or baths can raise your core temperature. That, in turn, can cause your heart rate to increase and reduce blood flow to your baby.
Instead, use warm water for all baths and showers once you get pregnant. Not sure what we mean by warm? Anything up to your body temperature — 98.6℉ — is safe for your skin and the little one growing inside you.
Warm water is just as effective at removing dirt and contaminants, but it isn't as harsh as the hot water to which you might be accustomed. We recommend reducing the temperature of your shower or bath so that no steam is produced.
This isn't the time to turn your bathroom into a sauna. If you want to be certain, you can also use a thermometer to test the temperature of the water. Just hold the thermometer in the water for three minutes to get an accurate reading.
If you prefer baths, try adding a nourishing bath oil to help keep your skin soft. Keep in mind that these oils can make the bathtub slippery, so be very careful when getting in and out of the tub.
Make the most of your bath by using a home remedy, like an oatmeal bath, to find relief for your itchy skin.
Make Yourself An Oatmeal Bath
Oatmeal is known for its anti-inflammatory properties. And not only will it relieve skin inflammation, but it will also soothe and moisturize your skin. So, add oatmeal to your warm bathwater to ease the itching!

Don't be intimidated by the thought of making your own oatmeal bath. It's easy!

For the most effective bath, you'll need to turn regular oats into what's called colloidal oatmeal, which is basically just super-finely ground oats. Use a blender or coffee grinder to grind oats into a fine powder.

Make sure your powder is fine enough that it doesn't immediately sink to the bottom of the tub. Add a few handfuls of this colloidal oatmeal to your bath before hopping in. The water will be the color of milk and you'll find that it soothes your itchy skin as you soak in it!
If you're dealing with severe itchy skin in the evenings, use oatmeal in conjunction with your baking soda paste when taking a bath.
Prepare For Baby Bath Time
Learning how to make your own oatmeal bath is a great skill to acquire for motherhood since babies can also benefit from oatmeal baths.

Baths aren't just a great way to keep your baby occupied (most babies love bath time!). They are also an opportunity to care for your baby's skin, just as you do yours.

For example, if your little one deals with baby eczema, soothe their skin during bath time by adding Mustela's Stelatopia Cleansing Oil to their bathwater.
Our plant-based formula envelops the skin and is enriched with sunflower oil distillate to soothe, avocado oil to strengthen and protect eczema-prone skin, and chamomile extract to leave skin feeling soft.

Plus, you can use it with confidence, knowing that it's recognized by the National Eczema Association and clinically tested on eczema-prone skin under pediatric and dermatological control.
4) Use A Moisturizing Shower Gel
Reducing the temperature of your shower or bath is a great way to prevent itchy skin during pregnancy, but there's even more you can do to keep skin healthy. We recommend using a moisturizing shower gel to keep your skin hydrated and soft while you bathe.
Choose a gentle, soap-free formula so you don't scour your delicate skin with harsh cleansers. Consider choosing a shower gel with a citrus-scented formula, which can re-energize you when you're feeling tired.
We also suggest that you skip the loofahs and other exfoliating bath accessories during your pregnancy. These tools are great for getting rid of dead skin cells on the surface but can leave your skin dry and itchy afterward. You don't want to undo all the hard work you're putting into keeping your skin hydrated and itch free!
5) Gently Pat Yourself Dry Instead Of Rubbing
Preventing itchy skin during pregnancy is all about being gentle. Your skin is becoming more delicate with each passing day. Any vigorous rubbing can cause micro-tears that result in irritation and dryness.
This is especially true when you dry off after a bath or shower. We recommend gently patting your skin dry with a soft towel instead of rubbing back and forth to remove excess water. Patting is just as effective at drying off, but it doesn't pull and stress your skin like rubbing does.
Patting yourself also feels great — like a mini massage — and can help relax you after a long day.
6) Treat Itching By Caring For Stretch Marks
Stretch marks happen to many women during pregnancy, and they often show up on your belly, hips, and breasts. Where do they come from?

Stretch marks are small tears that start in the middle layer of your skin (the dermis) and extend up into the top layer of your skin (the epidermis).

This skin-tearing can happen during a time of quick growth, like when teenagers have a growth spurt and, yes, when your belly expands with your growing baby!

Skin tearing sounds painful, but don't worry — stretch marks don't cause pain. But combine unwanted stretch marks with itchy skin and it can be quite a bummer. The good news is that you can treat itchy skin and reduce the appearance of stretch marks at the same time!
Caring For Stretch Marks
Itchy skin during pregnancy can be greatly reduced when you work to minimize the appearance of stretch marks. That's because the ingredients in products like Mustela's Stretch Marks Cream, Stretch Marks Serum, or Stretch Marks Oil also work to keep your skin soft, supple, and elastic.

And when your skin maintains its ability to stretch, it won't get dry and itchy!
Stretch Marks Cream
We recommend applying Mustela's Stretch Marks Cream to your belly and bust as soon as you know you're pregnant. This, in addition to your daily moisturizer, will provide extra healing and protection to areas of your body that are more prone to stretch marks and dry skin.

Our Stretch Marks Cream is specifically made to deliver hydration, which helps prevent the appearance of stretch marks during pregnancy.

This velvety-soft and hard-working cream nourishes and moisturizes your skin, leaving it comfortable, smooth, and intensely moisturized while soothing sensations of tightness and discomfort.

Additionally, avocado oil, which is known for its nourishing properties, helps restore your skin's barrier. Plus, it's hypoallergenic, paraben-free, and phenoxyethanol-free.

Tip: If you're sensitive to scent during your pregnancy, try our Stretch Marks Cream Fragrance Free. It offers the same great benefits we've mentioned above, but without the scents!

One thing we'd like to mention: If you have a c-section, keep in mind that this cream isn't meant to be used on c-section scars.
Stretch Marks Serum
Mustela's Stretch Marks Serum is a concentrated hydrating serum designed to use during pregnancy and postpartum. Our specially formulated serum moisturizes to help minimize the appearance of recently formed stretch marks while also giving skin a plump look and feel.

Even better, this serum is 100% compatible with breastfeeding!

It comes with a little pipette that allows for easy, targeted application. Simply apply our Stretch Marks Serum to recently formed stretch marks morning and evening for at least 8 weeks.

We suggest that you continue to use a stretch mark serum even after your baby is born to help heal your skin as your body adjusts to life postpartum.
Stretch Marks Oil
Another way to moisturize your skin and manage stretch marks is by applying an oil. Mustela's Stretch Marks Oil limits the appearance of stretch marks, leaving your skin restored, refreshed, and noticeably smoother! Ahh, silky soft.

And because our Stretch Marks Oil is formulated with 100% naturally derived ingredients, it's safe for both you and your baby during pregnancy and postpartum. Just remember not to apply it to your breasts while you're nursing or to recent c-section scars.
7) Apply A Cold Compress
As you know, cold compresses have a numbing and cooling effect, which makes them the perfect remedy for your itchy skin. Also, if you're noticing some swelling from all the itching, you've found the perfect treatment.
If you want immediate relief from your itchy skin during your pregnancy, apply a cold compress to the affected areas.
It can be as easy as soaking a towel or cloth in cold water. Wring it out, then place it on your itchy skin and leave it on for about five minutes. It's that simple!
8) Avoid Stress
Not only should you avoid stress for the sake of your well-being while pregnant, but you should also avoid stress for the sake of your skin. Breakouts, inflammation, and dry skin are a few examples of how your body reacts to stress.
Some ways to avoid stress are asking for help, letting go of some of your obligations, and not taking on more than you can handle.

Avoiding stress also involves a little self-care. Take some time for yourself — and your baby — by stepping back and clearing your mind. Relieve stress by getting away for a little bit or going out with a few friends.
Finding Relief From Itchy Skin
Itchy skin can be a downer while you're pregnant, but it's nothing compared to the joy of carrying your sweet little one! Plus, now you know that there are ways to do away with the itch!

After you've followed the tips above, bathed with warm water, and gently patted yourself dry, apply a pregnancy-safe moisturizer and stretch mark cream to keep skin healthy and elastic. Now you can go out and enjoy a wonderful, itch-free day!