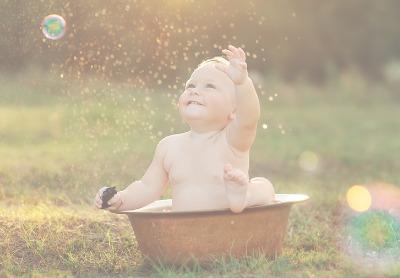 How To Manage Your Baby's Eczema In The Summer Heat
If the hot weather during the summer doesn't agree with your baby, you're not alone. Summer can be a time of sun and fun, but it can also be a time of irritated skin for your eczema-prone baby.
Sweating is one specific factor that can trigger an eczema flare-up in the summer heat. When our bodies get too hot, they sweat. The sweat glands produce moisture — which contains chemicals — that sits on the skin.
For children with eczema, sweating dries out the skin through the loss of fluids, and the sodium found in sweat can further dehydrate their skin as well as irritate it. So when your baby sweats, it leaves their skin dry and itchy.
And of course your little one is going to start scratching if their skin becomes itchy, which leads to irritation and inflammation. Even a little bit of sweat can cause an eczema flare-up in your baby.
So, as you can see, the summer heat can do a number on your baby's skin if not cared for properly. Follow our list of ways to manage your baby's eczema in the summer heat so you and your little one can enjoy summertime!
Tips For Managing Baby Eczema In Summer Heat
Drink Plenty Of Water
Make sure your child drinks plenty of water to stay hydrated from within and help regulate their core body temperature. This will eliminate the chances of your baby overheating and sweating, which, as you know, are the main factors in eczema flare-ups during the summer.
Stay Cool And Monitor Your Baby Outdoors
Staying outside in the heat can make your baby sweat. Sweating is natural, but as we mentioned above, it can actually irritate your little one's eczema.
Keep a close eye on your child during the summer, especially if you're planning for outdoor activities. Watch for lethargy and changes in the pigmentation of their skin. These are signs that your baby is too hot and may be dehydrated.
Applying a cold compress — such as an ice pack — and as we mentioned above, drinking lots of water, are two ways to keep your baby cool outside.
Limit Outside Time
It's important to keep your baby's body temperature regulated. Early morning and late evening are ideal times of the day for outside play. Avoid playing outside or be sure to stay in the shade during the hottest part of the day — generally from 10 a.m. to 4 p.m. — to eliminate the chances of skin irritation and overheating.
Speaking of skin irritation, using hydrocortisone cream on your little one before sun exposure may lead to thinning of their skin. Instead, try Mustela's Stelatopia Emollient Cream, which is made with all-natural ingredients, including Avocado Perseose and sunflower oil distillate, and is safer than steroid creams for use in the summer months.
To replenish, soothe, and restore any sun-kissed cheeks, use our Stelatopia Emollient Face Cream. Made with 97% ingredients of natural origin, this cream is gentle enough to use even on newborn skin.
Apply An Emollient Cream Before And After Swimming
Before heading to the pool, cover your eczema-prone baby in an emollient product, such as Mustela's Stelatopia Emollient Balm. Stelatopia Emollient Balm is a fragrance-free, natural product that helps reinforce the skin's moisture barrier to lock in much-needed moisture.
When exiting the pool, rinse your baby off with fresh water and pat their skin dry. Next, lather their skin in Stelatopia Emollient Balm to soothe any skin discomfort.
Use A Humidifier Indoors
If your baby sleeps in their room with the door closed, it's important to keep a humidifier running overnight. When your home's air conditioning system blows out air, it can create a dry environment. And since your baby's eczema-prone skin is sensitive to dry climates, this can lead to an eczema flare-up.
A quality humidifier can provide much-needed moisture to the environment and help prevent skin irritation.
Choose The Right Clothing For Your Baby
Loose-fitting clothing is less likely to trap in the heat that can lead to irritated skin. It is also more comfortable and allows for more flexibility in movement. But on the contrary, tight-fitting clothing can make your baby sweat. And as we mentioned earlier, sweating either further irritates your child's eczema-prone skin or sparks an eczema flare-up.
Additionally, avoid synthetic materials that may irritate your little one's eczema-prone skin, such as polyester, which can cause your baby to sweat more and may result in skin irritation. Choose 100 percent cotton clothing to keep your child cool and prevent itching for eczema-prone skin.
Dressing your baby in loose-fitting, 100 percent cotton clothing helps manage your baby's eczema in the summer heat.
Dress Your Baby In Stelatopia Skin Soothing Pajamas At Night
For a cooler night's sleep, dress your baby in Mustela's Stelatopia Skin Soothing Pajamas. These pajamas are specifically designed for babies and toddlers with eczema-prone skin. Delivering skin-soothing moisture throughout the night is just one of their many benefits.
After bath time, apply a nighttime moisturizer, such as Stelatopia Emollient Cream, to your baby's skin, and then dress them in Stelatopia Skin Soothing Pajamas to provide relief and promote better sleep.
Use Only Fragrance-Free Products
Any product with a fragrance attached to it will most likely trigger your baby's eczema.
Some fragrances are made of chemicals, which is something you don't want to put on your baby's eczema-prone skin.
Steer clear of fragrances to eliminate any chances of further skin irritation during the summer. Use Mustela's Stelatopia collection and rest easy knowing your baby's products are completely fragrance-free!
Maintain A Good Skin Care Routine
Summertime is for relaxation and kicking your feet back. But don't kick your baby's skin care routine to the curb just because it's summer. Stick to a routine every day to provide comfort and relief for your little one.
Morning
Mustela's Stelatopia Emollient Cream is perfect for everyday maintenance and care for extremely dry and eczema-prone skin. This light-textured, fragrance-free product moisturizes, nourishes, and soothes your little one's eczema-prone skin.
Apply the emollient cream all over your baby's body, but give special attention to delicate areas of their skin, including their face, the back of the ears, elbows, knees, and chest. Gently massage an extra layer of the emollient cream on these areas upon waking to prepare your child's skin for the day.
Below is a breakdown of specific areas where eczema flare-ups are most likely to show up based upon age:
Birth to twelve months: Plumper areas — like cheeks, forehead, arms, and belly — will show signs of eczema first.
Twelve months to three years: Your baby's skin folds — elbows, back of the knees, even behind the ears — will be more prone to eczema flare-ups.
Three years to six years: At this age, eczema likes to settle on the hands and face, particularly around the mouth and on the eyelids.
Afternoon
For a boost in skin hydration mid-day, use Mustela's Stelatopia Emollient Balm. The rich, creamy texture is easy to apply and works with your baby's body to quickly soothe their skin and help it feel supple and comfortable.
If nap time is approaching, don't hesitate to cover their entire body in an emollient cream before putting your baby down. You may also want to consider dressing your little one in Mustela's Stelatopia Skin Soothing Pajamas for nap time too. The ingredients in both of these products are activated when they come in contact with your baby's skin and help to keep it soothed, comfortable, and moisturized for a good nap!
For the best results, use Stelatopia Emollient Cream and Stelatopia Emollient Balm interchangeably throughout the day. Each product may be applied to your baby twice per day to relieve any skin discomfort.
Bath Time/Evening
Mustela's Stelatopia Bath Oil is formulated to gently clean, soothe, and protect your baby's eczema-prone skin. Pour two to three capfuls of this water-soluble oil directly into the bathwater to replenish and soothe your baby's skin.
Next, apply one to two pumps of Mustela's Stelatopia Foam Shampoo and gently lather onto your baby's wet hair and scalp. Leave the shampoo on for one to two minutes and carefully rinse. Stelatopia Foam Shampoo is specifically designed to clean the hair and scalp of eczema-prone skin. It's a tear-free, fragrance-free, and soap-free product that helps protect and strengthen your baby's delicate skin.
Restore moisture after your baby's bath time routine with either the Emollient Balm or the Emollient Cream and dress your little one in Stelatopia Skin Soothing Pajamas. Your baby's skin will feel fresh and clean and irritant-free, providing the right environment for a good night's sleep!
Sticking To The Routine
Sticking to this daily skin care routine for your baby with eczema will give them the best opportunity to avoid flare-ups in the summer heat.
Enjoy Your Summer
Make the most of your summer by following the above tips to help your baby avoid eczema flare-ups in the heat. Remember, you may need to stay indoors during the hottest part of the day. Your baby will thank you later!
Ensure that your child is drinking plenty of water and wearing loose-fitting clothing, and don't forget to monitor your baby while outdoors. Routinely apply emollient cream to give your baby's skin relief from the itching and irritation that often accompanies eczema.
And then at the end of the day, make bath time a fun bonding experience. Using Mustela's Stelatopia products at bath time and throughout the day will have your baby relaxing in no time.
With these tips, you can enjoy sweet summertime with your baby!