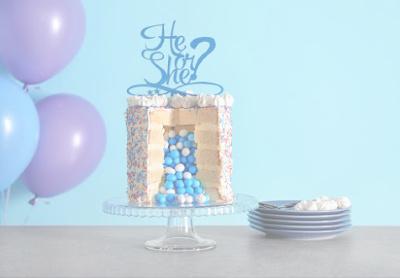 26 Memorable Ideas For Your Gender Reveal Party
Gender reveal parties are becoming as popular as baby showers. They are an exciting, fun way to share your baby's gender with family and friends! From the theme to the decor to the games and activities, the possibilities are endless.
Here at Mustela, we've put together a list of some of our favorite gender reveal theme ideas and activity ideas so you can throw a celebration your guests will never forget!
Table Of Contents
Gender Reveal Party Theme Ideas
You probably know by now that a gender reveal party is a gathering of family and friends where the couple reveals the gender of their unborn baby. Guests attending the party are typically not expected to bring a gift.
Gender reveal parties are incredibly fun, casual excuses to get together and celebrate your budding family! You can get creative with the way you reveal the gender of your little one, how involved you want your guests to be, and what activities you want to do together.
As more and more parents-to-be are jumping on the gender-reveal bandwagon, the list of theme ideas continues to grow. We've chosen a few of our favorites that your family and friends will be sure to remember for years to come!
1) Staches Or Lashes
If you want to give your family and friends a little treat, invite them over for cookies decorated with mustaches or eyelashes. Display mustaches and eyelashes throughout the party as decor.
Make a chart of "staches" or "lashes" on a chalkboard. Have each guest should write their name under "staches" if they think it's a boy or "lashes" if they think it's a girl.
Tally up the guesses before revealing the winning gender.
You can also turn this idea up a notch by playing pin-the-gender-on-the-baby. Tape up an illustration of a gender-neutral baby. Your guests, blindfolded, will have to try and "pin" either a mustache or eyelashes on the drawing!
The team that gets the closest to their intended target wins!
2) Bow-And-Arrow Gender Reveal
You can pull out your archery skills for this one to show off your little Hawkeye in the oven!
Place a black balloon filled with pink or blue paint on a blank canvas. Pop the balloon using a bow and arrow. The paint will splatter, revealing your baby's gender.
Bonus: You'll have a beautiful piece of art to display in your little one's nursery!
3) Buck Or Doe? Soon We'll Know!
Do you have a hunter in the family? If so, this is the perfect gender reveal theme!
For this down-to-earth theme, display a canvas painted with a deer. Then have your guests reveal their prediction by placing their finger in either pink or blue paint and leaving their fingerprints on the deer's antlers.
"Pink or blue? Add your fingerprint with your guess of hue!" Save the canvas as a souvenir from your party, or use it in the nursery as decoration.
4) Twinkle, Twinkle Little Star...How We Wonder What You Are
This sweet theme is inspired by the ever-popular nursery rhyme of the same name. Add gold stars and alternate pink and blue moons for decorations. Don't forget about your starry invitations!
Your guests can choose either a pink or blue moon to show if they're on team girl or team boy. Provide simple prizes for the ones who guessed correctly. They'll be over the moon with this theme!
5) What Will It Bee?
For a summer-themed gender reveal party, check out this black and yellow theme idea. You can go all out from the invitations to the decorations to the cake. Everybody will be buzzing about your party for years!
6) Game On! What Team Are You On?
If you're a sports enthusiast, you'll hit it out of the park with this idea. Your guests will choose if they're on team girl or team boy. Either way, you score with this gender reveal theme!
7) Boy Or Girl? We Donut Know!
For a laid-back gender reveal party, invite a few friends and family members over for brunch. Serve donuts to your guests while your baby's gender is revealed.
8) Little Cupcake Or Stud Muffin
Another brunch idea involves cupcakes and muffins. Your guests will savor this sweet moment with you.
"Bun is in the oven. Will it be a sweet little cupcake or a handsome stud muffin? We're baking something special and the timer's going to beep. Will the baby be a he or she?"
9) BabyQ
During the early summer months, have a BabyQ instead of a barbecue! "Bun is in the oven, burgers are on the grill...Welcome to the BabyQ!"
Invite your friends and family over for a BabyQ during which you'll reveal your baby's gender.
10) He Or She-esta
Did someone say fiesta? Treat your guests to a Mexican-themed party. Decorate with vibrant colors and offer a spread of Mexican food. Your guests will need a siesta after this party!
Stork Pinata
In keeping with the Mexican theme, end the party with a stork pinata. You can either use the pinata as a game or to reveal the gender with pink or blue confetti inside.
11) Pirates Vs. Mermaids
This nautical theme will let your guests choose between a pirate (boy) or a mermaid (girl) baby. You provide two different types of party hats: a pirate hat or a mermaid tail hat.
When your guests walk into the party, they can declare their choice by adorning their hat and making their allegiance known!
This theme is also great because it carries over so easily into decor and food themes. Make "sea cucumbers" sandwiches (with pickles), clam cookies (cookies wedged with frosting, propped open with a pearl in the middle), and ocean water (blue punch!).
The possibilities go on and on with this theme!
12) Get The Inside Scoop
For those hot summer months, a casual ice cream social makes for a fantastic option for your gender reveal party.
Whip up a giant ice cream bar where guests can make their own sundaes. They can choose from all sorts of toppings — including blue or pink sprinkles, of course!
At the bottom of each ice cream cone, ask your guests to place one chocolate-covered candy. Most of the candies will be chocolate all the way through, but one lucky guest will get a blue or pink candy.
If you want to get the whole party involved, you can give a colored candy to each guest. Once they all get to the bottom of their cones, they have to tally up the candies to reveal the gender!
And don't forget the wipes for a quick clean-up when the party gets a little too messy! Try our gentle Cleansing Wipes to remove dirt, grime, oil, makeup, and, yes, even ice cream.
13) Real-Life Rainbow
Have you ever seen a race where runners are splashed with powdered color after crossing the finish line? Why not incorporate that fun, colorful celebration into your baby shower?
For this gender reveal, you and your guests should wear white. You'll need to buy colored powder (gulal or abir, as it's traditionally called) to stuff into small tins for your guests to use. Since they shouldn't be able to see the color, make sure the tins are painted black!
The top of each tin can be covered with a black, malleable cloth with a small slit cut over the top so your guests can fit their hands inside without revealing the colored powder.
You'll close your eyes and on the count of three, your guests will shower you in shades of blue or pink!
For a more colorful celebration, we recommend including color families in the tins, too. For pink, add a small amount of reds, purples, and oranges; for blue, feel free to incorporate some greens and purples!
Your white clothes will take on the color of the powder, leaving you and your guests with wonderful, tie-dye souvenirs to keep the gender reveal party memory alive!
Gender Reveal Party Activity Ideas
Once you've decided on a theme for your gender reveal party, check out our ideas for memorable activities to include during your celebration!
14) Advice Cards
At your gender reveal party, encourage your guests to leave a note of inspiration or advice for the parents-to-be. Read them at the party or save them to read while you're at the hospital.
Either way, this keepsake will leave a lasting memory from your party.
15) Old Wives' Tales Chart
Play a game with the old wives' tales about determining gender for a fun way to reveal the truth! Prepare cards for your guests with a chart of old wives' tales, and display your own chart on a big board.
Your guests will circle their guesses on their cards and then you will circle your answers on the board. For instance, morning sickness: yes (girl) or no (boy); carrying baby: high (girl) or low (boy); mom's craving: sweet (girl) or salty (boy).
When the scores are added up, they should reveal the baby's gender based on old wives' tales.
16) Late-Night Diapers
During your party, your guests can leave sweet notes on diapers. In the "wee" hours of the night, you'll find some encouragement or laughter.
17) Pacifier Hunt
For a fun, engaging game for your guests, hide a certain number of pacifiers throughout the party. Whoever finds the most pacifiers wins a prize. Happy hunting!
18) Wear Your Guesses
Prepare pink and blue clothespins beforehand and put them in a bowl. Once your guests arrive, have them choose either a pink or blue pin to wear throughout the party.
At the end of the event, give a prize to those who guessed correctly.
19) Gender Reveal Scavenger Hunt
Send your guests on a scavenger hunt to find out the gender of your baby. For your last clue, lead your guests to open the oven and pull out a gender reveal cake.
20) Name Suggestions
Prepare pieces of pink and blue paper and place them next to a jar. As your guests arrive, encourage them to write down their name suggestions. You'll have a jar full of names to read over with your significant other after the party.
21) Shake And Spray To Know The Gender Today
Neutral-looking spray cans with either pink or blue inside will leave your friends and family on their toes in anticipation. Have everyone shake and spray their cans at the same time for the big reveal.
22) He Or She? Pop To See!
Fill black balloons with white confetti. Only one balloon will contain either pink or blue confetti to reveal the gender. Each guest grabs one balloon upon arriving.
When you're ready, pop each balloon until you've revealed your baby's gender.
23) Paintball Baby
For an action-packed event, you and your guests can use paintballs to reveal the gender of your baby!
Set up one or more bullseyes secretly labeled "guns or glitter." When you're ready to reveal the gender, instruct everyone to aim for the bullseye and pull the trigger!
The gender of your baby will be revealed in one big paint splash!
24) Make A Baby Book Together
For those moments when guests need a little downtime to munch on their delicious party snacks, set up a station with pages for guests to color illustrations.
These illustrations can be images from a familiar fairy tale, or if your guests are creative, they can design their own!
At the end of the party, you'll have several beautiful pages to laminate and bind together for your baby's first book. The best part is that it was made by all of their loved ones!
25) Paint The Nursery
For a smaller crowd of attendees, what is a better bonding activity than getting ready for the baby together?
Everyone knows becoming a new parent is hard work. Getting ready for the big day can be a massive undertaking!
Your guests can lend a helping hand (and have loads of fun!) by helping you paint an accent wall for the baby's nursery.
This idea requires some prior planning, as you'll need to have the nursery room protected and ready for painting and make sure the paint color is kept secret. But the rewards of watching your guests' faces as you swipe that first bit of pink or blue paint across the wall are priceless!
You could also adjust this idea to best suit your plans for the nursery. Want a less bold look? Leave the wall white and ask your guests to paint small doodles or messages for the new baby.
Then, when they're not expecting it, you can add a little pink bow or blue bowtie to present the big reveal!
26) Silly String Fight
For this idea, we recommend laying out a tarp beforehand — we're about to get messy!
Tape up or paint bottles of silly string so they are opaque and don't reveal the color of the string inside. Give your guests one or two bottles to equip themselves.
Then, when the time comes, have all your guests split up into teams (girl guessers vs. boy guessers is a great split!). On the count of three, everyone will let their silly string loose and reveal the gender of the baby.
And they'll be laughing in the meantime!
Mustela Is Here For Your Gender Reveal And Beyond
From pregnancy to birth to parenthood, Mustela is here for you. While you're expecting your little bundle of joy and preparing for your gender reveal party, don't let your skin care needs take a backseat!
We offer a complete range of specifically formulated products — like our Stretch Marks Set — to best address the skin care changes that occur during pregnancy and beyond.
Made for mothers during pregnancy and postpartum, our Stretch Marks Cream delivers hydration to help prevent the appearance of stretch marks. Paired with our fast-absorbing Stretch Marks Oil, this set is the ultimate skincare duo.
Protect your skin throughout each stage of your pregnancy with Mustela's full line of clinically effective skin care products. They're safe for you and your baby and will keep your skin moisturized, healthy, and comfortable to enhance that pregnancy glow!
Frequently Asked Questions
1) What Do You Do At A Gender Reveal Party?
As mentioned above, the primary goal of a gender reveal party is to let your friends and family know if you'll be having a boy or a girl. But your activities don't have to be limited to that.

You can also enjoy some food with your guests and play fun games. There's no "right" way to host this type of party.
2) Who Should You Invite To A Gender Reveal Party?
Compared to a more traditional baby shower or a subsequent baby sprinkle, a gender reveal party is typically more intimate. So, keep your guest list a bit smaller by focusing on your closest friends and relatives.
If possible, try to invite guests from both sides of the family. That way, everyone can discover what you're having at the same time.
3) Do You Serve Food At A Gender Reveal Party?
No rule says you have to serve food at your gender reveal party, but it is a nice way to show your guests some hospitality. Plus, it gives everyone something to do while they wait for the big moment.
If you decide to provide food, make your menu as simple or elaborate as you want. Just keep in mind that finger foods are often the best option since they're easy to eat and won't require any utensils.

You'll also want a way for guests to clean their hands before and after eating, so be sure to set out our gentle Cleansing Wipes.
4) What's The Difference Between A Gender Reveal Party And A Baby Shower?
A gender reveal party is all about finding out the gender of your newest family member. It typically happens around the halfway point of your pregnancy journey. Gifts aren't expected at this casual get-together.
Conversely, a baby shower is held closer to your due date. It focuses on preparing you for parenthood and gifting you with items you'll need for your precious new arrival.
5) Where Should You Have A Gender Reveal Party?
Your home is ideal for a gender reveal party since it's comfortable and familiar. But, if you don't think your house is large enough to accommodate all of your guests, consider renting out a space at a local park or community center.
Note: Check out the rules of any space before paying. Some ban gender reveal parties due to potential fire hazards posed by popular pyrotechnic reveals or the inherent mess of blue or pink confetti.
And no matter where you have your party, clean up after yourself so your celebratory debris doesn't harm the environment.