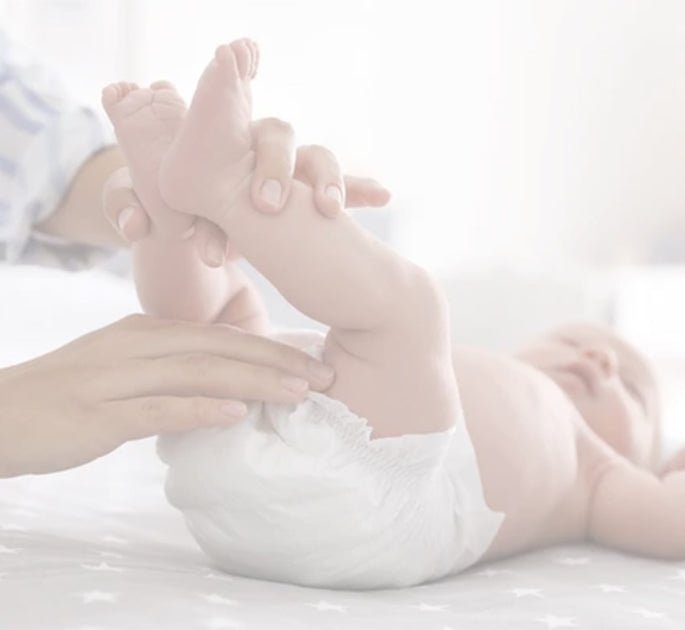 5 Natural Diaper Rash Remedies That Actually Work
The phrase "soft as a baby's bottom" doesn't always apply when your little one has a red, irritated diaper rash. The good news is that natural diaper rash remedies can help your baby's skin heal and get back to its normal, soft self in no time.
In this article, you'll read about five ways to kick diaper rash to the curb — naturally and gently. Then, we'll discuss tips to help prevent diaper rash in the first place. But first, let's review the basic signs of this unfortunate (but sometimes inevitable) skin rash and when to see a doctor.
Table Of Contents
Signs Of Diaper Rash
Diaper rash, scientifically known as irritant diaper dermatitis, includes any rash around your baby's diaper area. And it's quite common. Ingrid Polcari MD, FAAP notes that at least 50 percent of little ones have a diaper rash at some point in their diaper-wearing years.
The following can be signs of run-of-the-mill diaper rash:
Pink or red, irritated skin
Puffy skin
Skin that's warm to the touch
Small bumps
Rest assured that these symptoms are normal. Diaper rash is a treatable skin rash and can clear up in a few days with the right plan in place.
Just keep in mind that if your baby's rash doesn't clear up with regular diaper rash remedies, they might have a yeast diaper rash. Click here for more information.
If your baby's diaper rash becomes more serious, you'll need to head to the pediatrician. Here are a few of the signs that it's time to see a doctor:
Blisters
Sores
Pimples
Pus
Peeling skin
A yellow-colored rash
Cracked or bleeding skin
Fever
Very painful rash
The rash worsens after a couple of days of treatment
The American Academy of Pediatrics also recommends that you seek medical care if your baby is on antibiotics and has a pink or red rash with spots around it.
Assuming there's nothing unusual about your baby's rash, let's discuss the natural diaper rash remedies you can use to soothe, calm, and protect your baby's skin.
Natural Diaper Rash Remedies
1) Go Without A Diaper
First things first, if your baby has a diaper rash, it's important to let them spend some time without a diaper. Their diaper traps moisture and warm, moist environments allow bacteria to flourish. In fact, this can be one of the causes of diaper rash.
When you and your little one are home for a while, opt for some diaper-free time. But since there won't be a diaper to catch the pee and poo, how can you ensure a clean and dry house?
Put a towel or waterproof mat on the floor and set your baby down there. Offer entertainment, like toys or a mirror, or get on the floor yourself to play with your baby.
If it's nice weather, grab a towel and have diaper-free time in the backyard. Just be sure that your baby is properly protected from the sun.
Expert Tip: If you have a baby boy, use a clean washcloth to cover his privates so he doesn't pee on everything around him!
2) Apply Coconut Oil
You might use coconut oil on your own skin, but did you know that you can use it on your baby's diaper rash, too? This wonderful, moisturizing plant oil has antimicrobial properties and may help wound healing and skin barrier function.
Gently apply a small amount to your baby's clean, dry skin a few times a day.
3) Use Your Breast Milk
There's one natural diaper rash remedy that you always have on hand if you're breastfeeding. That's right — breast milk! And it's a good option to treat regular diaper rash.
The Mayo Clinic references a study that showed breast milk to be a safe diaper rash treatment that was as effective as using one-percent hydrocortisone ointment.
Dab a bit of your milk onto your baby's skin and allow it to dry before putting a diaper on.
4) Choose A Diaper Cream With Zinc Oxide
Zinc oxide is another ingredient that comes straight from the earth. This powerhouse ingredient soothes, softens, and moisturizes the skin to support healing. It's used for several skin conditions, such as eczema and acne. Plus, it's the star ingredient in mineral sunscreens.
To use zinc oxide as a natural diaper rash remedy, choose a diaper cream that contains this mineral. All three of our diaper rash creams are made with non-nano zinc oxide.
For example, Diaper Rash Cream 1 2 3 is composed of 98% plant-based ingredients, using zinc oxide in conjunction with sunflower oil distillate and avocado perseose to repair the skin barrier and protect your baby's skin.
And, like all Mustela products, it's free of parabens, phthalates, and phenoxyethanol.
If you prefer a touch-free, sprayable diaper cream so you don't have to touch your baby's irritated and sensitive skin, turn to our Diaper Rash Sprayable Cream. This gentle formula contains zinc oxide in addition to avocado perseose, organic shea butter, chamomile, and calendula.
Plus, it comes in a recyclable bottle. We want our products to be good for your family's skin as well as the planet we love.
5) Find A Diaper Cream With Olive Oil
For even more benefits from natural ingredients, find a diaper cream that is crafted with olive oil to soothe your baby's diaper rash.
We recommend our EWG Verified Diaper Cream with Olive Oil and Aloe, which contains olive oil that's sourced from family-owned groves in the South of France. The olives undergo a cold-pressed extraction process to maximize potency and skin-nourishing properties.
It's fragrance-free, safe for even the most sensitive skin, and dye-free so it won't stain cloth diapers or your baby's clothing.
Along with the other products in our organic collection, this diaper cream is designed to be environmentally conscious both inside and out. The packaging is made from sustainably sourced sugar cane, and we've done away with secondary cartons.
Diaper Changing To Prevent Diaper Rash
As we mentioned earlier, diaper rash is very common and will affect most babies at some point. But there are a few preventive measures you can take every time you change your little one's diaper.
Change Your Baby's Diaper Frequently
Since sitting in a wet, dirty diaper can irritate your baby's skin and leave it vulnerable to diaper rash, do your best to change their diaper frequently.
We'd also like to mention that the diaper itself could be irritating your little one's sensitive skin. If you suspect that's the case, switch to a different type of disposable or cloth diapers to see if you can find one that agrees with your baby's skin.
Clean The Diaper Area Well
To help keep bacteria away and avoid irritated skin, clean your baby's diaper area thoroughly at every diaper change and let their skin dry thoroughly before putting a fresh diaper on their clean bottom.
For really big messes, consider giving your little one a quick bath. But that's certainly not necessary for every poopy diaper. Micellar water, No-Rinse Cleansing Water, or gentle baby wipes will do the trick.
That brings us to our next and last point.
Choose Soothing Wipes
Whether you're in the middle of treating a diaper rash or just in prevention mode, you'll want to choose gentle, soothing baby wipes. That way, you won't irritate healthy skin or further aggravate a diaper rash.
The American Academy of Pediatrics recommends wipes that are free of alcohol and fragrance. So, look no further than our Certified Organic Water Wipes with Cotton and Aloe.
Alcohol- and fragrance-free, these EWG Verified wipes are designed to gently cleanse your baby's skin, leaving it soothed, soft, fresh, and moisturized.
Made with 99.8% ingredients of natural origin (such as organic cotton, organic aloe vera, and purified, softened water), these wipes are also vegan and biodegradable. But those aren't the only reasons they're good for the planet.
Our organic aloe vera is grown in the highlands of Mexico and comes from farms that meet fair-trade requirements. Meanwhile, the organic cotton we use is 100% recycled from the textile industry and part of a circular economy and anti-waste approach.
We've also ditched the plastic lid, reducing our plastic use by 47%.
Natural Diaper Rash Remedies For Smooth Skin
When diaper rash strikes, turn to the natural diaper rash remedies we mentioned in this article. Let your baby go without a diaper, apply coconut oil or breast milk, and choose a diaper cream made with zinc oxide, such as Diaper Rash Cream 1 2 3 or Diaper Rash Sprayable Cream.
For even more natural-ingredient goodness, use our Diaper Cream with Olive Oil and Aloe. Combine these natural remedies with the good diaper-changing practices we mentioned above for smooth skin that is, in fact, soft as a baby's bottom.