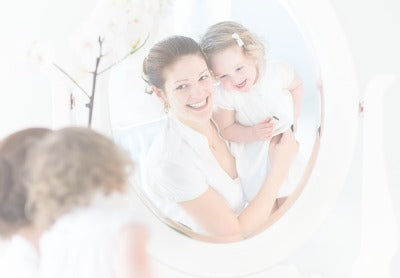 Baby Perfume: Safety Tips Plus Expert Answers To Commonly Asked Questions
With the arrival of your new baby, it's hard to determine what's safe for your little one and what is not safe. As a mom, you want what's best for your baby. One specific product you may have concerns about is baby perfume.
In this article, the experts at Mustela will address your concerns and talk about the benefits of baby perfume for your little one. You'll discover what baby perfume is and why it's a good product to have on-hand in the nursery.
Benefits Of Baby Perfume
Bond
One of the benefits of using Mustela's baby perfume is the bond that it creates. The bond and memories that develop through the human sense of smell are amazing. Memories can be triggered by scents, often allowing you to reminisce on a particular season in your life.
Mustela's baby perfume, Musti Eau de Soin Spray, introduces opportunities for bonding. Use the perfume to create a new memory between you and your baby through the sense of smell.
Scent
Not only can baby perfume increase the bond between you and your baby, but it also smells good! Mustela's Musti Eau de Soin Spray has a blend of citrus with hints of rose, lilac, and amber.
The subtle, sweet smell delightfully complements your baby's natural scent. And unlike other perfumes, it won't overwhelm your senses.
Stimulation
Another benefit of baby perfume is the stimulation of your little one's senses. To help promote development, it's important to focus on stimulating your baby's five senses: sight, hearing, taste, touch, and smell.
Sight
You can stimulate your little one's sense of sight by going on walks to survey your surroundings. Looking at books can also stimulate the sense of sight.
Hearing
You can stimulate the sense of hearing by talking, reading, and singing to your baby. Try to rotate between upbeat, exciting sounds and gentle, soothing ones.
Taste
To stimulate the sense of taste, simply feed your baby. Breastmilk and formula can certainly help stimulate your little one's sense of taste, but as they get older and begin eating baby food, the opportunity for taste stimulation is even greater.
Touch
You can stimulate your little one's sense of touch by rubbing their hands and feet, tickling them, bathing them, and holding them. It's also beneficial to give your baby a variety of textures to grasp and feel.
Smell
What about stimulating the sense of smell? How is your baby being stimulated by smell, other than by all the stinking diapers you're changing?
Using baby perfume is a great way — in addition to choosing the right lotion and shampoo — to stimulate your baby's sense of smell.
How To Use Baby Perfume
For direct use on your baby, you can apply baby perfume behind your little one's ears, on their neck, or on their wrists. That's really all there is to it! Just keep in mind that a little goes a long way.
Other Uses Of Baby Perfume
Personal Use
Not only can your baby use the perfume, but you can too, mom! We mentioned spritzing some on your chest and clothes to increase bonding during breastfeeding, but you don't have to limit yourself to only using baby perfume during those times.
Nursery
Baby perfume can leave an alluring smell in your little one's nursery. So go ahead and mist your baby perfume on clothes, blankets, sheets, and pajamas.
NICU
What if your baby is in the NICU? You're barely able to hold your little one after giving birth. The only scent your baby knows is you, and now they're distant from you.
Nothing will ever replace skin-to-skin contact with your baby, but while your newborn is in the NICU and can't smell you directly, use baby perfume on their linens to help stimulate their sense of smell.
Toddler
What about when your little one gets older? No problem! You can continue to use Mustela's baby perfume on your growing toddler.
Frequently Asked Questions About Baby Perfume
1) Can You Put Perfume On Your Baby?
This is an excellent question, and probably one at the top of your list. The answer is yes, with some research on what is and isn't found in Mustela's baby perfume.
Natural ingredients are a top priority for Mustela. Our products are formulated in France, where the cosmetic safety guidelines are the strictest in the world. Over 450 safety experiments are conducted before any product ever reaches the consumer.
While it's always important to check and review the ingredient labels in any baby product you use, your mind can be put at ease knowing the history and formulation of Mustela baby products.
2) Can You Use Baby Perfume While Breastfeeding?
Yes. Mist a little baby perfume on your chest before nursing and your little one will be sure to enjoy the natural freshness!
And as we mentioned before, baby perfume is wonderful for newborns in the NICU. Spray some on your chest before nursing if your baby is in the NICU to enhance the bonding experience you and your new little one might otherwise miss out on.
3) What Ingredients Are In Baby Perfume?
While all baby perfumes don't contain the same ingredients, you can rest assured that Mustela's baby perfume is made with only safe, pure ingredients.
You will find Musti Eau de Soin Spray to be eco-friendly, containing plant-based and natural ingredients, such as Chamomilla Recutita (Matricaria) flower extract and honey extract.
4) Is It Safe to Use On Your Baby? (Ingredients Not Found In Baby Perfume)
Safety is a top concern when it comes to your baby. You research the most reliable car seat. You research the most versatile and light-weight stroller. You research what preschool will be best and safest for your little one.
But what about the products you're using on your baby? Are they safe? Is it the best you can find for your little one?
Mustela's baby perfume is hypoallergenic, minimizing the risk of allergic reactions. Additionally, Musti Eau de Soin Spray is free from potentially harmful ingredients, like parabens, Phenoxyethanol, and alcohol.
Parabens
Parabens are used as preservatives in pharmaceutical and cosmetic products and in the food industry.
You've heard about parabens in your food, but what about in the products you use? Since parabens are a preservative, they're a must for some of your products to prolong shelf life. Parabens also stop mold and bacteria from growing.
However, the longer your skin is exposed to these parabens the more harmful they can become.
Switching to paraben-free products can be a challenge, but the experts at Mustela help make the transition effortless for you with paraben-free skin care items for your little one, like our bathtime set.
Phenoxyethanol
Phenoxyethanol is used as a stabilizer in perfume. It can be harmful if swallowed, inhaled, or absorbed through the skin.
This stabilizer is also used to fight bacteria in products. Phenoxyethanol is widely used, but that doesn't necessarily mean it's safe for you and your baby. Just like with parabens, if your skin is frequently exposed to Phenoxyethanol, it can pose harmful effects to your baby and your body.
Alcohol
If you've cleaned using alcohol or had to use alcohol for wounds, you're familiar with its overwhelming smell. It can give you a headache. Alcohol can also irritate your skin, and some people may even be allergic to it.
If alcohol affects you in these ways, think about what it could do to your little one. With a newborn, you don't know how your baby will react to certain products, especially when it comes to your little one's sensitive skin.
As a parent, you nourish and take care of your baby's skin to the best of your ability. Sometimes that means avoiding skin care products with potentially harmful ingredients like alcohol, which is why Musti Eau de Soin Spray is an alcohol-free baby perfume.
Baby Perfume: Summing It All Up
Baby perfume has multiple uses and can increase the bond between you and your baby. And with Mustela's Musti Eau de Soin Spray, you can rest easy knowing it's safe, natural, and free from parabens, Phenoxyethanol, and alcohol. It's a beneficial and versatile product to have on-hand for your little one...and you!