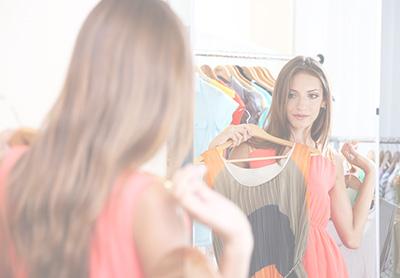 Pregnancy Fashion: How To Modify Your Wardrobe When Expecting
If you're like most soon-to-be moms, your growing tummy may have you worried about your dress code over the next nine months. How can I still look cute and comfortable? Will I have to buy a whole new wardrobe? Can I still be fashionable? Yes, you can still look cute and be comfortable. No, you will not have to buy a whole new wardrobe. Yes, of course, you can still be fashionable! If you know how to accommodate your new and expanding figure, you can be just as trendy as you were before pregnancy. And luckily for you, Mustela's got you covered! Follow our simple guide to modifying your current wardrobe and you'll look good and feel good for the months to come.
Use What's Currently In Your Closet
You don't need to run to the mall and go on a shopping spree...unless you really want to! If you have the extra spending money and want to treat yourself to a new wardrobe of the trendiest pregnancy fashion, by all means, go for it. However, you really don't need to spend a lot of money to adjust your weekly attire to accommodate your pregnancy. You can easily incorporate pieces from your current wardrobe into your new pregnancy wardrobe. As a matter of fact, most of your clothing can really be worn throughout your pregnancy.
Wear Your Workout Clothes
As your belly expands, you will be grateful for comfortable workout clothes. Stretchy yoga pants and leggings are especially great. They fit you now, and they will fit you in a few months. You can exercise in them or just lounge around the house. If you have a pair of black workout leggings that you love, you can always rely on them when real pants become too uncomfortable.
Rely On Flowy Tops
Your flowy tops will be your best friend. You can wear them at any stage and still look fashionable. Throw on a cute flowy top, pair it with black booties, and you are set for a night out. If you're going out on date night and still want to feel sexy, pick a flowy blouse with a plunging neckline to show off your growing breasts. Don't be surprised if you turn a few heads, including your partner's, of course.
Keep Your Comfortable Footwear
If you feel uncomfortable in something from your pre-expecting wardrobe, put it away. Don't wear it just because you have it. If it isn't comfortable, don't wear it. As your body changes, you want to feel as comfortable as possible and what you wear has a big impact on that. As the months progress, you may notice your feet and ankles starting to swell. This can be a big source of discomfort, so choose your footwear accordingly.

Don't squeeze your swollen soles into stilettos! They may be your favorites shoes but they won't feel good. Keep circulation healthy and flowing by wearing shoes that fit properly and aren't too tight. Make sure your feet and ankles stay supported. You don't have to wear geriatric orthopedic shoes -- just choose your most comfortable and cute pairs to wear. If you're pregnant during the summer, feel free to wear sandals. A good pair of sandals will be both super comfy and supportive.
What Should You Purchase?
While you can still wear most of your existing wardrobe, you will probably need to buy a few key items to fit your changing body.

A New Bra Makes A Big Difference
Most importantly, invest in new, comfortable undergarments. The first big change in your body you will probably notice is that your breasts are getting larger and more tender. Don't let them cause you any discomfort! Treat your breasts with the care and respect they deserve. Invest in a good, supportive bra. It doesn't have to be totally utilitarian either. If you can find a bra that helps you feel sexy, go for it! Just make sure your new bra is comfortable and supportive.
Invest In Comfy Underwear
You'll also want to treat yourself to an array of comfy cotton panties that won't feel like they are suffocating you as your belly starts to majorly expand. Nobody wants elastic seams digging into their tummies or bum. Get some new underwear that fits your new figure and feels good on your skin.
Only Buy Pieces That Can Grow With You
If you feel the rest of your closet is lacking in wearable items for your changing figure, buy new pieces that can grow with you. Don't buy something that will only fit you for a week or two. Consider adding wrap dresses to your uniform. Not only are they very flattering but they accommodate expanding tummies superbly. That's a pregnancy fashion must!
Consider Maternity Jeans
If you like to live in denim, purchase a pair of maternity jeans. As you enter your third trimester, you may find that you can't fit into your old jeans. At this point in your pregnancy, high quality maternity jeans with an elastic waistband are often a great investment.
Pregnancy Fashion Do's And Don'ts
Do be comfortable. You may not feel so comfortable in your changing body, but at least your clothes can be comfy. Do wear what you like. Your sense of style does not need to change just because you're pregnant. If you're a bit rock and roll and you like to wear a lot of leather, you can still wear leather!

Don't change who you are just because you are now expecting a baby. Wear what makes you happy and makes you feel like the best version of you. Pregnancy fashion does not have to be drab and utilitarian. Have fun with it!