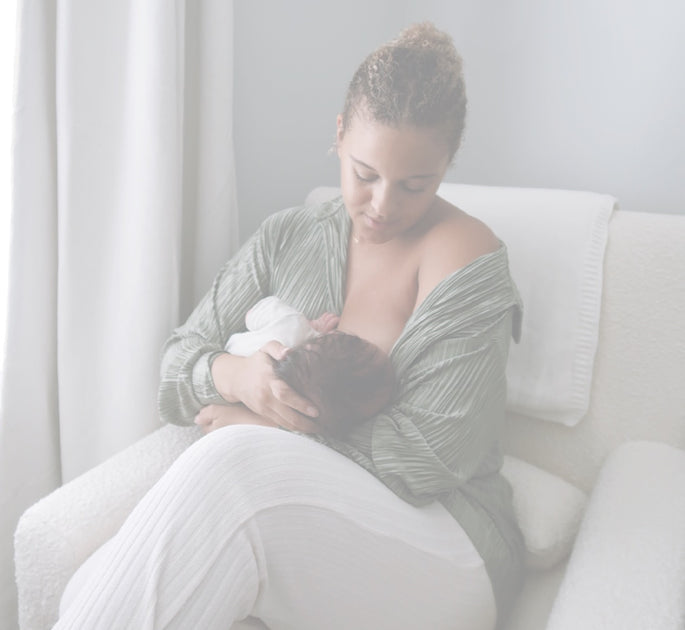 Must-Have Best Breastfeeding Supplies For New Moms
While the only thing you technically need to breastfeed is your breasts and a suckling baby, having these breastfeeding supplies on hand can make the experience easier and more enjoyable for you and your little one.
To help you get the most out of nursing, we've rounded up 20 of the best breastfeeding supplies for new moms.
Table Of Contents
Breastfeeding Supplies To Get You Started
Let's start with the basics. If you're brand new to breastfeeding, you'll want to have a few things on hand to help set you up for success.
1) A Nursing Bra (That Fits!)
One of the most important things a nursing mom can have is a good nursing bra. Your breasts change so much during pregnancy and early breastfeeding that you want to pamper them with a good-fitting bra.
Look for one that you can unhook with one hand so you're not fumbling with your clothing when trying to calm a hungry baby. You'll also want to choose a comfortable bra that won't rub against your tender breasts.
2) Breast Pads
Your milk is going to leak. And while you do need to accept that reality, you aren't destined to walk around with milk stains on your shirts.
Instead, invest in some good-quality breast pads. They'll absorb leaks and protect your clothing.
3) Organic Nursing Comfort Balm
Until your nipples get used to being sucked on, they may crack and bleed. Ouch!
To soothe painful nipples and help them heal, apply our Organic Nursing Comfort Balm. It's made from 100% food-grade ingredients, so you don't have to worry about it harming you or your precious baby.
4) Pain Reliever
In the early days, breastfeeding can hurt. That's because it stimulates your uterus and causes it to contract into its pre-pregnancy position.
You can ease the discomfort with a little over-the-counter pain reliever, like ibuprofen or acetaminophen. Just be sure to check with your healthcare provider before taking anything to verify that it's safe for use during breastfeeding.
5) A Water Bottle
Staying hydrated is key to maintaining a good milk supply. So make sure you have a water bottle that you can easily access while nursing.
If you're having trouble drinking plain water, try adding a little flavor with some fresh fruit or herbs. Or, invest in a water bottle with a built-in filter to have clean, fresh water wherever you go.
6) Nursing Shirts
Can you breastfeed in a regular shirt? Sure. Will it be convenient? Nope.
That's why it's worth investing in some high-quality nursing shirts. Look for ones that are comfortable and offer easy access for breastfeeding so you can quickly latch your baby without having to mess with weird hooks or buttons.
7) Burp Cloths
After you feed your baby, they're going to need to burp. And unless you want your clothing covered in spit-up, you'll want a burp cloth ready to catch the mess.
Look for one that's big enough to cover your shoulder and protect your clothes but not so big that it gets in the way.
8) Cleansing Wipes
Breastfeeding can get messy. Between leaking milk and sour spit-up, you may find yourself needing to clean up more than you ever have before.
And while a regular baby wipe can do the job, it's not necessarily the best choice for delicate skin. Instead, opt for wipes specifically designed for sensitive skin, like our Cleansing Wipes.
9) A Nursing Pillow
A breastfeeding pillow is a must-have for any nursing mom. This u-shaped pillow supports your baby while they're nursing. It also props up your arms so you don't get sore while holding your little one to your breast.
Supplies For Pumping
Even if you're planning on exclusively breastfeeding, there may be times when you need to pump. Pick up the pumping supplies you need in advance so you aren't left scrambling if a situation arises.
10) A Nursing Pump
The best way to express milk for later is with a breast pump. These come in two main styles: manual and electric. Manual pumps are less expensive but take a little more effort to use. On the other hand, electric pumps are more expensive but much easier to use.
11) Breast Milk Storage Bags
Once you've pumped your milk, you need special bags to store it safely. Breast milk storage bags are freezer safe and designed to preserve the quality of your milk.
12) Bottles
After you've gone through the trouble of pumping and storing your milk, you want your little one to be able to drink it, right? That's where bottles come in.
The key is finding a bottle your baby will take to easily. If you're unsure which type to choose, ask your pediatrician for a recommendation.
Breastfeeding Supplies To Promote Self-Care
Can you really take care of yourself when you're focused on feeding your baby? Yes!
Here are a few must-have products to help you take care of yourself while breastfeeding:
13) Snacks
When breastfeeding, you need to eat often to keep your energy up. But it's not always easy to find the time to sit down for a meal. That's why snacks are essential, especially shelf-stable, healthy grab-and-go options.

Stock a basket with snacks, like granola bars, nuts, and dried fruit, and keep it next to your nursing chair so you can quickly refuel when needed.

Remember to include a few special treats, like your favorite candy or chocolate. They can make a big difference in your mental outlook.
14) A Comfy Chair
You can breastfeed just about anywhere, but it's more comfortable (and relaxing) to do it in a chair designed specifically for nursing. Look for a supportive chair, with armrests and a backrest. It should also be big enough to fit you and your baby comfortably.
15) Books Or Magazines
You're going to be spending a lot of time nursing your baby. Why not make the most of it by reading a good book or magazine? Stock up on a few of your favorites so you always have something to read.
Supplies For Nursing On The Go
While you might stay home the first few weeks after having a baby, you will eventually want (or need) to leave the house. And that means you'll need to be prepared to breastfeed, even when you're not at home.
16) A Nursing Cover
You don't have to cover up while breastfeeding in public, but some moms feel more comfortable doing so. If that's the case for you, invest in a good nursing cover. Look for one that's breathable and easy to use.
17) A Sling Or Front Carrier
A sling or front carrier can be a lifesaver if you plan to be out and about with your baby. It frees up your hands so you can carry other stuff while keeping your baby close. Some are even designed for your baby to stay in while you nurse.
Breastfeeding Supplies When There's Trouble
Breastfeeding isn't easy, and there will be times when you need a little help. These supplies can make those tough times a little easier to manage.
18) Shields For Inverted Nipples
If you have inverted nipples, your baby might have trouble latching on. Nipple shields can help. These thin silicone cups are placed over the nipple and are held in place by suction. They draw out your nipple so your newborn can latch on more easily.
19) Foods To Build Milk Supply
If you're struggling to produce enough milk, you can try adding milk-boosting foods to your diet. Fenugreek and blessed thistle are two herbs traditionally used to increase milk supply. You can find them as supplements at most health food stores or in lactation tea.
Lactation cookies and oatmeal can also help. If you make these foods a regular part of your diet, you might see your milk supply increase.
20) Contact Information For A Lactation Consultant
If you're having trouble breastfeeding, it can be helpful to talk to a lactation consultant. They can help you figure out what's causing the problem and advise you on how to fix it.
You can usually find lactation consultants at hospitals, birthing centers, and some doctor's offices. You can also search for one online.
Enjoy Bonding With Your Baby
Breastfeeding can help you grow closer to your baby. It's a time to relax and focus on your new little one. To make the most of this season, keep a variety of breastfeeding supplies nearby, such as our Organic Nursing Comfort Balm and our Cleansing Wipes.

These supplies make your life easier so you can focus on what really matters, your baby.