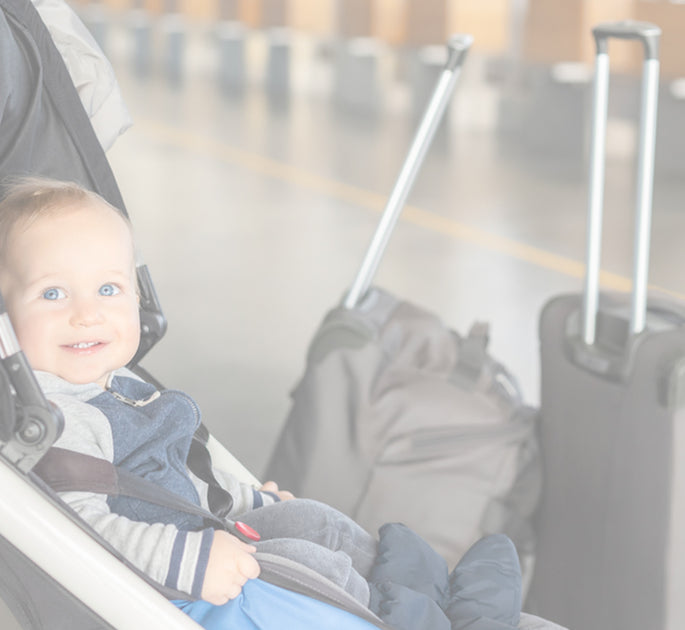 13 Baby Travel Essentials To Never Leave Home Without
If you love to travel and you're a new parent, you may be wondering if there are baby travel essentials you should bring on your adventures with your little one.
We're here to put you at ease about family travel and show you what to bring along to make the trip with your baby as stress-free as possible. In this article, we discuss baby travel essentials to never leave home without.
Baby Travel Essentials To Make Your Trip Easier
As you prepare for your trip, take a look at our article on the best travel tips. And if you're flying, you'll want to read our guide on flying with your baby.
One great travel tip we've learned is to minimize the number of items you need to bring along by choosing the most flexible items you can find. Baby gear with more than one use is ideal!
With this in mind, let's take a look at some of our favorite essentials.
1) Travel-Sized Essentials
If you're traveling by plane, you'll need to keep your products small to meet airline requirements. Travel-sized skincare essentials from Mustela are perfect for packing on a plane. Our handy travel pack contains basics like our cleansing gel, wipes, and lotion.
2) Convertible Stroller/Child Safety Seat
Another example of a multi-purpose travel item is a stroller that converts into a car seat. There are several good ones out there, so choose the best one for your family that will mean fewer items to lug around.
3) Clip Seat
You'll need a place for your baby to sit during meals, but it's hard to take a highchair along when you travel. Baby seats that clip to the end of the table and fold down to a very small size are perfect for traveling.
4) Baby Sling
When traveling with a baby, there are some places or situations in which you can't use a stroller at all. This includes national monuments, many museums, historic home tours, and even parts of Disney World. In these instances, a baby sling can take the place of your stroller.
As you're planning which one to bring, make sure it's a sling you've used before and know is comfortable for you and your baby.
5) Comfortable Clothes
When it comes to clothing, you'll want to keep the temperature in mind. Not just the temperature where you intend to go, but the possible temperature along the way as well.
For example, if you're traveling by air to a warm beach town, remember how cold it can get for your little one on air-conditioned flights.
In addition, be sure to bring a jacket, hat, and baby mittens if it's a winter trip or a swimsuit and swim diapers if you're taking a trip during warm weather.
Comfortable, natural pajamas, like our Stelatopia Skin Soothing Pajamas, that are soft on your baby's sensitive skin are a great choice when traveling, too.
6) The Right Diaper Bag
Consider using a backpack-style diaper bag for traveling with ease. You may do a wide variety of activities on your trip, from moving through airports to sitting on a sandy beach to going for a hike.
Choosing a diaper bag that easily wipes clean is great for all sorts of situations, including sand. And having one you can wear backpack-style keeps your hands free for holding onto your little one.
We like options that are lightweight and have lots of pockets and accessories to help you stay organized. Also, look for a diaper bag with stroller straps made from wipe-clean material for those inevitable spills.
7) Clean-Up Supplies
You'll need to have a way to clean bottles and sippy cups on the go. We recommend a long bottle brush that folds into a drying rack and comes in a tidy, packable container.
8) A Safe Sleep Solution
It's important to have a safe place for your baby to sleep no matter where you go. It can also be a huge help to include a shade or cover for their travel crib. A shade can provide darkness for better rest or double as a sun shade when the baby is awake.
For a super convenient sleep solution, look for a travel crib that folds into a backpack so it's easy to carry around. Bonus points if the set also includes useful travel accessories, like a fitted crib sheet, a nap shade, or a bug shield.
9) Meal-Time Tools
Nobody wants to deal with a hangry baby, especially when traveling. With a little foresight, you can anticipate your baby's mealtime needs before they're ready to eat.
For example, you probably considered packing your breast pump and bottles, but have you thought about how you'll warm the bottles on the road? That's where portable bottle warmers come in handy.
There are even combined portable bottle warmer and formula dispensers available. And for older babies and toddlers, choose an integrated bowl and placemat option to keep the meal mess contained. It's also the easiest way to keep track of baby dishware.
These products are usually made from silicone, which means they are easy to clean and perfect for travel!
10) Sun Protection
It might not be the first thing you think of when planning your trip, but your baby's skin care while traveling is important.
You'll need to keep in mind the sun exposure you'll have, especially when considering the amount of harsh UV you can get in a plane at higher altitudes. You can also get too much sun when riding in your car.
To protect your little one's delicate skin, bring along a great sunscreen spray. Our SPF 50 Mineral Sunscreen Spray is gentle and effective, and it can be used by the entire family. That means fewer products to pack.
11) Relief For Dry Skin
You've probably heard that your skin can dry out when flying. Why? As humidity decreases at higher altitudes, your body releases moisture through your skin.
Because of this, it's really important to keep your family's skin hydrated. Our Nourishing Stick with Cold Cream is the travel-friendly moisturizer your baby needs to stay comfortable and protect their skin.
If your little one has eczema, it may flare up during your travel adventures. This condition often appears on a baby's face but can occur anywhere on their body. Take a look at our Parent's Guide To Baby Eczema before hopping on a plane.
12) Cleansing Wipes
You can never have too many cleansing wipes. And you want to ensure you have the very best wipes that are safe for your baby's skin. We've developed gentle, one-step Cleansing Wipes that are perfect for your baby and for you.
In fact, they're so great at cleaning up daily messes and removing makeup that Allure named them one of their Best Of Beauty products in 2017. That's why it's no secret these wipes are another great multi-use product for travel.
And if you're trying to stay organic, we have wipes that will meet your needs, too. We think you'll love our Certified Organic Water Wipes with Cotton and Aloe that are oh-so-gentle on the skin.
We also recommend our plastic-free Cleansing Wipes with Avocado. These wipes are perfect for cleaning the face, hands, body, and your baby's delicate diaper area at home or on the go.
13) Soothing Products For The Diaper Zone
Diaper rash doesn't go away just because you're traveling. It's important to care for your baby's diaper area no matter where you are!
Mustela Diaper Rash Sprayable Cream is ideal for travel. With touch-free spray application, this natural formula is easy to use and helps prevent and treat diaper rash in a convenient spray format.
In addition, our Liniment is a fragrance-free 2-in-1 natural cleansing and soothing lotion that your little one will love. We believe it changes the whole diapering experience for the better and is another product with two uses, which is great for travel.
Your Family Travel Adventures Await!
Now you know the 13 baby travel essentials you'll need to have a great trip with your baby. Get started with travel-sized skincare essentials and the Nourishing Stick with Cold Cream. With these and the other products listed above, it's time to embrace the travel adventures ahead of you and your family.
By doing a little planning, finding high-quality products you can trust, and selecting as many multi-use baby travel essentials as you can, you'll be ready to create packing systems that work for you.
And if you have any questions about your little one's development while away, consult our blog for answers to the most commonly asked questions.
Happy adventuring!