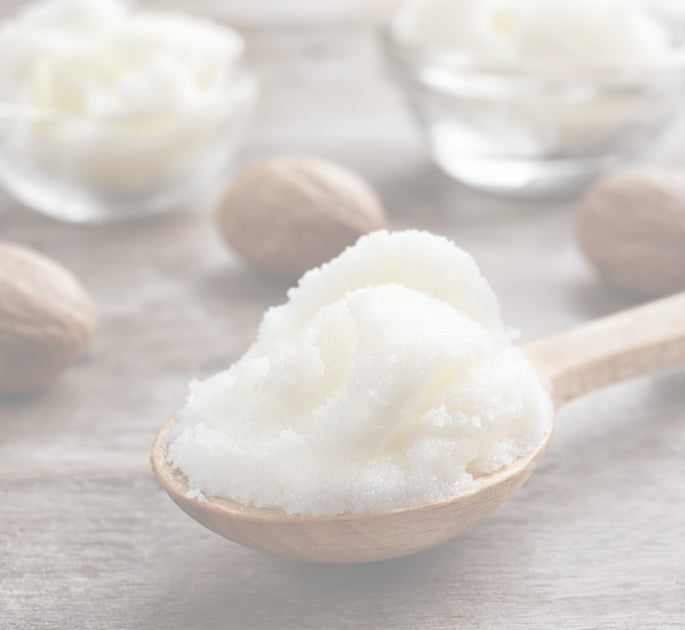 4 Benefits Of Shea Butter For Skin, Plus How To Use It
Shea butter is one of the darlings of the skincare world and understandably so! It's creamy, natural, and oh-so-moisturizing. If you're interested in learning more about using shea butter for skin, you're in the right place.
In this article, we'll share a few of the benefits that shea butter provides, and then we'll discuss how to use it so you can experience the wonders for yourself.
But first, let's start with the basics of what exactly you're putting on your skin.
What Is Shea Butter?
You've probably heard at least something about shea butter, but you have no idea where it actually comes from. It hails from Africa, specifically from a tree called the shea tree, which is scientifically known as Vitellaria paradoxa.
There are two types of shea trees — one from East Africa and another from West Africa. While they both produce shea butter, they differ slightly. But in both instances, the shea butter we use on our skin is the fat harvested from the tree's nut.
In this article, we're focusing on shea butter for skin, but this product is also used in the kitchen as a cooking fat or a substitute for cocoa butter.
What sorts of nutrients are hiding in this off-white butter that makes it such a wonderful treat for your skin?
With linoleic, palmitic, stearic, and oleic fatty acids, it has a unique fatty acid profile, while it also provides vitamins A, E, and F as well as triglycerides and cetyl esters that condition and moisturize your skin.
Let's get into a few more details about just how shea butter benefits your skin.
4 Benefits Of Shea Butter For Skin
1) Chemical-Free
First and foremost, shea butter is natural. Since it can be applied to your skin raw and unrefined — exactly how it comes from the nut — this means it's a natural moisturizer that contains absolutely no additives or questionable chemical ingredients.
That's good news for your skin.
That said, a skincare product that contains shea butter along with other ingredients is also a good option! Simply check the label to be sure that it's free of common irritating and harmful chemical ingredients.
These include parabens, phthalates, phenoxyethanol, and (if you're purchasing sunscreen), chemical UV filters like oxybenzone, avobenzone, octisalate, octocrylene, homosalate, and octinoxate.
Parabens and phenoxyethanol are both preservatives that can irritate your skin and have serious effects on your body (parabens, for example, can disrupt your hormones).
Meanwhile, phthalates are plasticizers and can also be an irritant and negatively affect hormones, among other concerns.
To us, these ingredients are just too risky to use, so here at Mustela, all of our products are 100% free of parabens, phthalates, phenoxyethanol, and chemical UV filters.
Another plus of shea butter is that it is unlikely to cause a reaction when applied topically even though it is a tree nut product. That's more good news.
Even so, it's always a good idea to do a patch test when starting any new skincare product.
2) Moisturizing
If we've said it once, we'll say it a thousand times. Shea butter is super moisturizing, and this is one of the main reasons for its fame and why it's so widely used and loved.
It's solid at room temperature but liquefies at body temperature, which allows it to glide over your skin like a velvety dream.
The moisturizing property of shea butter is thanks to its fatty acids, which are easily absorbed into your skin, helping create the barrier that locks moisture into your skin and keeps the bad guys (like environmental irritants) out.
3) Anti-Inflammatory
Shea butter's moisturizing effect in itself can help to soothe your skin, but one of the other benefits of shea butter for skin is that it's anti-inflammatory.
There are a few components that contribute to its anti-inflammatory properties. Linoleic acid, for example, has anti-inflammatory effects when applied to the skin, and cinnamic (if it sounds something like cinnamon, that's because it's closely related), is also an anti-inflammatory agent.
In general, applying shea butter to your skin slows inflammation and irritation. This is good news for eczema-prone or easily irritated skin.
4) Antioxidant Properties
As we mentioned, shea butter is full of skin-healthy nutrients, like vitamins A, E, and F, which are antioxidants.
Antioxidants sound great and are all the rage, but how do they benefit your body? They work to protect your cells from damaging free radicals. This helps you stay healthy, turn over new skin cells, and slow down premature aging.
Now that you know about some of the benefits of using shea butter for skin, there's no time to waste! Here's how you can start using it today.
How To Use Shea Butter For Skin
Before we get into the two different ways to use shea butter on your skin, there's one thing we'd like to mention.
If you've heard shea butter has SPF (sun protection factor), that's correct! It's just one more of the added benefits of this amazing natural oil. However, shea butter is not sunscreen, and it's important that you don't use it in place of sunscreen.
Instead, opt for a mineral sunscreen, like Mustela's SPF 50 Mineral Sunscreen Lotion, which is made with non-nano zinc oxide and moisturizing oils including coconut and macadamia.
That said, there are two ways to use shea butter: raw straight from the plant or in a skincare product. Let's take a look.
Straight From The Plant
You probably don't have a shea tree in your backyard. But the idea is that raw shea butter can be applied directly to your skin. In fact, raw, unprocessed shea butter allows you to reap all of the benefits the butter has to offer.
If you have the chance to purchase raw shea butter, make sure it's pure and unrefined. This is important because the process of refining shea butter can diminish the wonderful properties that make it so nourishing.
However, it may be more common to see shea butter as an ingredient in a skincare product (like a moisturizer). And there's nothing wrong with reaping the benefits of shea butter in this way!
In A Moisturizer
Since shea butter is so moisturizing, it's common to see it as an ingredient in nourishing lotions and creams that are designed to protect and deliver deep moisturization to dry skin.
Here are three shea butter products that we think your whole family will love.
Nourishing Cream
Mustela Nourishing Cream with Cold Cream is a daily face cream that protects the surface of the skin against environmental conditions and acts on the deeper layers of the skin to keep it healthy.
This plant-based formula is designed specifically for dry skin, and while it was made to be gentle enough for babies, it's also effective enough to use on dry, irritated adult skin.
In addition to shea butter, this moisturizer contains coconut oil, sunflower seed oil, and a patented nourishing complex of avocado perseose.
For complete hydration, we recommend using this product in conjunction with our Nourishing Lotion, which we'll mention next.
Nourishing Lotion
For all-over moisturization, turn to our Nourishing Lotion with Cold Cream, a daily multi-action body lotion designed for babies but perfect for anyone with dry skin. It penetrates the skin effortlessly to deliver immediate and long-lasting moisture!
Made with 95% plant-based ingredients, this lotion is hypoallergenic and has been tested under dermatological and pediatric control. And, of course, it's free of parabens, phthalates, and phenoxyethanol.
Nourishing Stick
A travel-friendly moisturizer that provides heavy-duty protection, our Nourishing Stick with Cold Cream is ideal for soothing your baby's dry cheeks and lips.
In an easy-to-apply tube, this rich formula glides on gently to form a protective barrier against environmental conditions, like cold and wind.
At the core of each Mustela product is the belief that nature knows best, so all of our products favor ingredients that are either natural or of natural origin. Our Nourishing Stick is composed of 96% plant-based ingredients (including shea butter, coconut oil, and sunflower seed oil).
We also believe in preserving biodiversity and, as such, require that all Mustela suppliers incorporate sustainable development practices as part of that commitment.
Shea Butter For The Whole Family
Shea butter has many benefits for skin! It's natural, anti-inflammatory, full of antioxidants, and so very moisturizing. This is one natural moisturizer that can be used for the whole family.
Purchase raw, unrefined shea butter and apply it to your skin, or turn to a product that combines shea butter with other natural oils. We recommend Mustela Nourishing Cream with Cold Cream, Nourishing Lotion with Cold Cream, or Nourishing Stick with Cold Cream.
Start using shea butter for skin today. Soft, moisturized skin awaits!