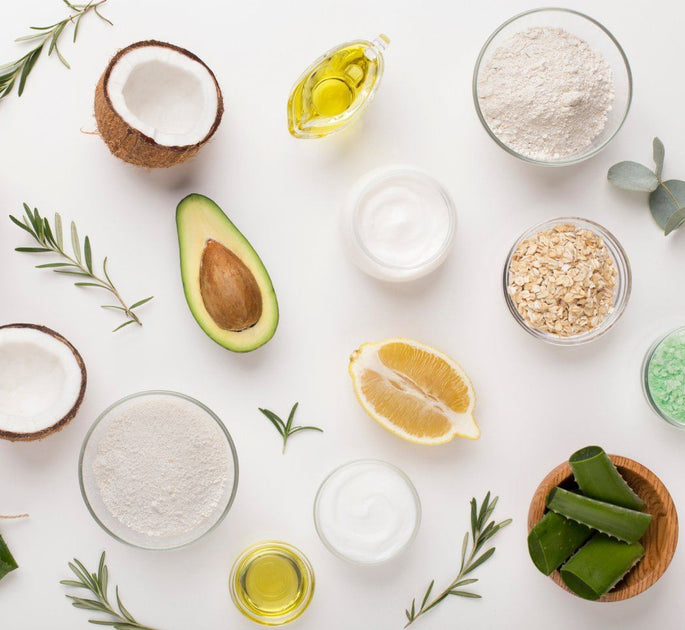 Organic vs. Natural vs. Clean Skin Care: What Does It Mean For You And Your Baby?
It's a fact: you want the best for your baby. If your baby is breastfeeding, you look for ways to keep yourself healthy so your little one stays healthy too. If they're bottle-feeding or eating solid food, you read every label to ensure that your baby is getting all the nutrients they need.

You look for organic, natural, and clean skincare products because you make sure that everything you do contributes to their health, happiness, and development. For that, you should be applauded.

But one thing parents sometimes forget to consider is what's in their baby's skincare products. They see a phrase like "organic skin care," "natural skin care," or "clean skin care" on the label and assume it must be OK — without looking at the ingredients.

For example, do you know what the ingredients are in your little one's cleanser, lotion, or diaper rash cream? Honestly, we can't blame you if you don't. It would take a chemistry textbook to understand most of them.

"But wait," you protest, "if the label says 'all-natural' or 'organic,' doesn't that automatically mean it's safe and non-toxic?" Unfortunately, it's a little more complicated than that.

The experts at Mustela are here to give you the facts about organic, natural, and clean skincare products. We'll also explore the differences between the three and see what it means for you and your baby.
Organic vs. Natural vs. Clean Skin Care: What's The Difference?
Organic Skin Care
The basic meaning of the word organic is "grown or raised without chemicals or pesticides." This concept became popular in recent years because of the demand for farm-to-table foods.

What does that have to do with skincare products? The term "organic" refers to the way a plant is grown, and it's important to know that info about the plants that make their way into your lotion or your baby's diaper cream!

The organic ingredients in your skincare products don't have the pesticide and chemical residues that their non-organic counterparts have. That's good!

However, "organic" by itself tells you nothing about the other chemicals or ingredients that are added to your skincare products. In other words, it doesn't reveal how much of an organic product is actually organic.

In fact, according to the USDA, the term can be used to label any product that contains at least 95% organic ingredients. So up to five percent of a product's ingredients may not be organic even in that product labeled as such!

That's why only looking for an "organic" label is not enough.

The good news is that the organic skincare trend opened the eyes of many consumers. These consumers then began demanding more natural ingredients overall.
Natural Skin Care
Natural skin care implies that a product is formulated with chemical-free ingredients. Unfortunately, the skincare industry isn't well-regulated and the "natural" label isn't perfect.

As long as a product contains some plant-derived ingredients, companies can label it as natural. But that product may also include man-made chemicals.

While naturally derived ingredients are great, the other important thing to remember is that not all synthetic ingredients are harmful.

Many man-made chemicals are just as safe, if not safer, than some natural ingredients. Add to that the fact that some natural ingredients can be just as harmful as synthetic ingredients (take mercury, for example), and you can start to see why there's so much confusion.

Because of the uncertainty surrounding natural vs. unnatural and safe vs. unsafe, consumers began searching labels for ingredients they recognized. That gave rise to the idea of clean skin care.
Clean Skin Care
Clean skin care is about safety over source. These products often contain both natural and man-made ingredients, but nothing damaging.

"Clean" means that the liniment you use on your baby's diaper area — or the cleanser you bathe with — is free of harmful chemicals.

In other words, it's the difference between an exfoliator with safe and helpful synthetic acids such as alpha hydroxy acid, lactic acid, and salicylic acid, and an exfoliator that contains the harmful and carcinogenic 1,4-dioxane.

While the second exfoliator may be more reasonably priced, it can put both you and your baby at risk. That's why we at Mustela are committed to providing only the safest products for you and your family.

We go beyond current cosmetic safety standards to offer organic, natural, and clean skincare products that are both effective and safe to use — even for newborns and breastfeeding moms.

When choosing skincare products for you and your little one, keep in mind that clean is a mindset, not a definition.

There are no regulations governing which ingredients to include and which to leave out, so you have to examine the labels of all your skincare products yourself.

Now, let's talk about what to look for.
What's In Your Skincare Products?
When you read the label on your baby's daily lotion or the hydrating cream you use twice a week, you'll see some ingredients you recognize and some you don't. Which ones are safe and which ones aren't?

We can't list every ingredient you'll ever see, but we can reassure you that things like water, beeswax, zinc oxide, avocado perseose, sunflower oil, and glycerin are perfectly safe.

But many skincare products contain unsafe ingredients, including (but not limited to):
Phthalates
Avobenzone
Formaldehyde
Butylated hydroxytoluene (BHT)
1,4-dioxane
For instance, did you know that parabens and phthalates disrupt hormone production? Or that formaldehyde and 1,4-dioxane can cause cancer?

Why are harmful ingredients like these allowed in skincare products? Because of the lack of skincare industry regulations we mentioned before.

Manufacturers can get away with including dangerous ingredients in their products by classifying them as "inactive ingredients" or as "fragrance."

Take BHT, for example. BHT is a preservative that extends the shelf life of products from a few weeks or months to almost a decade. The problem with BHT is that it has been linked to cancer.

Not what you want in your or your baby's products!
Why Haven't These Ingredients Been Banned?
The United States has currently only banned 30 substances from personal care products. Compare that with over 1,500 banned substances in Europe and you can see how far behind the United States's skincare regulations are.

Fun fact: Mustela is a French-owned company, meaning we abide by the strict European regulations, rather than those of the U.S.

Unlike the food industry, the skincare and beauty industry in the U.S. has been mostly untouched by the recent health movement. Food labels have become more transparent, but most skincare products for babies and adults haven't.

What's worse is that consumers assume that everything is labeled like food, but this is not the case. The guidelines for what manufacturers can include in their products haven't been revised for almost 80 years. That leaves a lot of leeway.

But now, consumers are more conscious about what they put on their skin and on their babies' skin. That new-found awareness has led to a demand for organic, natural, and clean skin care.

How can you choose the right products for you and your little one? We'll answer that question in the next section.
Choosing The Right Skincare Products For You And Your Baby
At Mustela, we have been devoted to creating safe products for both moms and babies for over 70 years. We scrutinize all of our products before they ever reach your diaper bag or medicine cabinet.

It starts with our belief that nature knows best and our dedication to using ingredients that are natural, or of natural origin, whenever possible. We leave out unsafe ingredients and produce all of our products according to a rigorous set of standards.

To top it off, we also offer an organic product line that includes diaper cream, micellar water, hydrating cream, cleansing gel, and wipes.

We also test all of our products under the supervision of a pediatrician and a dermatologist to ensure their effectiveness and safety for you and your baby.

Why are we so strict about every ingredient that goes in our products? So that you don't have to worry about which ingredients are beneficial and which ones are harmful.

You can trust that our creams, cleansers, and other products were made with your and your family's health and happiness in mind!

Take our Certified Organic Cotton Wipes with Water, for example. They are designed to gently cleanse your baby's skin, leaving it soothed, soft, fresh, and moisturized. They are ultra-soft, fragrance-free, and composed of 99.8% ingredients of natural origin.
You can also use our Stelatopia Emollient Face Cream on your little one's face to soothe, protect, and replenish their skin. Made with 97% ingredients of natural origin, it's easy to feel good about using this gentle product on your baby.

To point you in the organic, clean, and natural direction as you choose skincare products for yourself and your little one, here are two of our favorite products.
Organic Hydrating Cream with Olive Oil and Aloe
Our Organic Hydrating Cream with Olive Oil and Aloe is a one-stop cream made for the whole family! It's lightweight, restorative, and leaves both your and your baby's skin soft, supple, and hydrated.

How does it stack up when it comes to natural, organic, and clean? First of all, it's carefully crafted with 99.6% naturally derived ingredients. That includes organic aloe vera, organic sunflower oil, and organic olive oil.

In addition, it's fragrance-free and EWG Verified™. If you're not familiar with the Environmental Working Group (EWG), it's a non-profit organization that does the legwork for you when it comes to finding clean, safe products.

And, we're proud to say, EWG Verified™ is the very best rating a product can get.
Organic Micellar Water with Olive Oil and Aloe
Get the whole family cleaned up in a snap with Mustela's Organic Micellar Water with Olive Oil and Aloe. Using a soft cloth or cotton ball, apply it to your or your baby's skin and that's it! No need to rinse.

Our micellar water gently cleans the face, hands, body, or diaper area. You can even use it to remove your makeup! Talk about a multi-purpose product.

This micellar water is made with only eight ingredients, including organic aloe vera and organic olive oil! Not just that, but 99.7% of the ingredients are naturally derived, and this product is EWG Verified™.

To top it off, it's designed to be environmentally conscious inside and out. The formula is biodegradable, and the packaging is made from sustainably sourced sugar cane.

We want to keep you and the earth happy at the same time!
Organic, Natural, And Clean Skin Care For The Family
Now that you understand the differences between organic skin care, natural skin care, and clean skin care, you're ready to choose products that will be safe, healthy, and effective for you and your family!

When possible, opt for products that contain organic, naturally derived, and clean ingredients.

Look no further than Mustela's Organic Line. Stock up today on our Organic Hydrating Cream with Olive Oil and Aloe and Organic Micellar Water with Olive Oil and Aloe, and check out our diaper cream and cleansing gel as well.

Mustela's skincare products truly are the ideal solution for you and your baby!