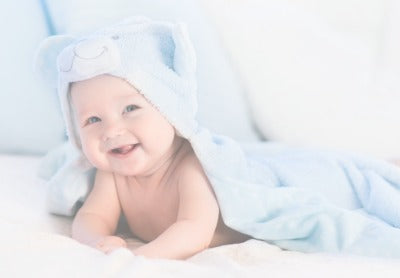 Is Hydrocortisone Cream Safe For Babies?
As your baby grows, their highly sensitive skin can become extremely dry. You may even notice that your baby's skin is regularly marked by rough red patches, particularly on their face, in skin folds, and on their extremities.
Over the years, there have been many products (such as hydrocortisone cream) used by doctors to treat symptoms of baby eczema and other skin rashes and irritation. But whether or not it is safe to use hydrocortisone for babies has long been a controversial subject.
What Is Hydrocortisone Cream?
Hydrocortisone cream (or ointment) is a corticosteroid medication that is often used to help reduce the inflammation, redness, and itchiness of eczema and rashes on your child's skin.
Hydrocortisone medication has been used for over 50 years and is generally considered safe for older children and adults with conditions such as psoriasis, eczema, allergy rashes, and skin conditions arising from autoimmune disorders. Other conditions treated with Hydrocortisone cream include poison oak, poison ivy, and bug bites.
But when it comes to using this medication on your baby, there's a bit more you should know.
Why Is Hydrocortisone Cream Used?
Hydrocortisone cream is often used to help relieve inflammation associated with skin conditions like eczema, but it is not recommended for babies. This is because, while the available strength in over-the-counter (OTC) creams is only one-percent hydrocortisone and is generally safe for older children and adults, there is no definite answer on whether hydrocortisone at one-percent concentration is also safe for babies.
Furthermore, two-percent hydrocortisone may be needed and prescribed for more severe cases of skin inflammation. Hydrocortisone should only be used on babies under the supervision of a doctor.
Fortunately, there are a number of skin care products that don't contain hydrocortisone, such as Mustela's Stelatopia line, designed with your little one's delicate skin in mind and specifically formulated to help treat and prevent eczema.
Concerns Surrounding Hydrocortisone Cream
Your baby's skin is designed to protect them from the world around them — from air pollution to water, as well as bacteria that are airborne or exist on the things they touch and explore every day.
However, your little one's skin cells (just like an adult's) aren't impermeable. That means that chemicals and bacteria can squeeze by and penetrate your infant's sensitive or thin skin, causing an allergic reaction and potentially flooding their bloodstream.
When hydrocortisone cream is used extensively, it disrupts skin's natural acid mantle and can significantly thin or weaken your baby's skin and increase their chances of a number of viruses. Likewise, since hydrocortisone is a steroid medication, it can build up in your little one's body over time.
If hydrocortisone cream is administered, it is very important to apply ONLY the amount of hydrocortisone recommended. Never use it more times per day than directed, and only for the time period that your doctor recommends.
Side Effects Of Hydrocortisone For Babies
There are several side effects associated with hydrocortisone on your infant. It is very important to consult your baby's pediatrician before starting use of a hydrocortisone product or if any of the following side effects begin to present themselves.
Thinning Skin
One of the side effects of using hydrocortisone cream for babies, as mentioned above, is the thinning of your baby's skin.
If you use too much or too high a strength of hydrocortisone, your baby's skin can become thinner and may be put at risk for tears. Unfortunately, using a lower strength over long periods of time can often have the same effect.
You may even notice what looks like stretch marks beginning to appear on your baby. The tiny blood vessels under your little one's skin may also become swollen in the treated areas.
Skin Infection
Since hydrocortisone reduces inflammation by lowering the immune system's response, it can put your baby at risk for skin infections. If too much is absorbed by their skin and into their bloodstream, there is also a higher risk of infections inside their body.
Adrenal-Gland Suppression
Another very important risk to consider is that the long-term use of any steroid medication can lead to adrenal-gland suppression in your baby's body.
Adrenal glands produce important steroid hormones, such as adrenaline and cortisol. If your little one's body gets accustomed to obtaining too much hydrocortisone from outside sources, it may stop producing these hormones itself. In a worst-case-scenario situation, the effects of this can be fatal.
Additional side effects that hydrocortisone cream may have on your baby include:
Redder skin when you first start to apply the cream/ointment
Spots on their skin
The cream/ointment spreading an untreated infection and making it worse
Scarring and small blood vessels becoming visible on your baby's skin, as well as areas of their skin becoming darker
Skin becoming lighter in color
If your child's skin becomes redder, has white patches, or weeps yellow fluid, it may be infected. Take your baby to a pediatrician as soon as possible. Do not apply any more hydrocortisone cream.
These potential side effects may seem frightening, but you can rest assured knowing that there are many effective, natural remedies that have little or no side effects and are safe to use on babies in place of hydrocortisone cream.
Alternatives To Hydrocortisone Cream For Babies
Many parents opt for tried-and-trusted, natural products to treat their little ones as opposed to steroid-laden medications like hydrocortisone.
Instead of reaching for the hydrocortisone cream to treat your baby's eczema-prone skin, stock up on natural products that are specifically formulated for dry, atopic-prone skin — like Mustela's Stelatopia products — that will help restore your baby's skin without further irritating it.
Along with Mustela products, there are a number of other natural remedies to replace hydrocortisone cream and keep your little one safe.
Protected Sun Exposure
Sunshine is a good natural remedy for eczema and other skin conditions. Taking your baby outside for a quick sunbath — with proper sun protection, of course — can help to lower inflammation levels in their skin.
Make sure you only stay outside for a few short minutes to avoid sunburn.
Chamomile
If your doctor gives you permission, try a lotion containing chamomile or calendula for your baby. These ingredients can soothe irritated skin. You can also use a lotion that has a high amount of water in the formula to help increase moisture in your little one's skin.
Oatmeal Or Baking Soda
Try putting a small sprinkle of oatmeal, colloidal oatmeal, or baking soda in your baby's bath water. These are safe for infant skin and work very well for treating skin conditions naturally.
Pair this protective bath water combination with gentle products like Mustela's Stelatopia Bath Oil. Your baby will love splashing in the water with Mustela's formula that safely and gently cleanses, moisturizes, soothes, and protects your baby's eczema-prone skin.
Cooling Cloths And Creams
Use soft cloths moistened with cool water and therapeutic cream on your baby's inflamed skin areas. Mustela's Stelatopia Emollient Cream is a fragrance-free cream that helps to reinforce skin's moisture barrier and soothes your little one's discomfort.
Leave the cloth in place for five to 10 minutes at a time to treat your baby's irritated skin.
Probiotics
There are studies being done to see if probiotics in the form of a powder that can be added to baby formula will help relieve eczema in babies.
Research suggests that the live bacteria in probiotics may help provide a good natural balance to babies' skin. Check with your child's doctor before giving probiotic supplements.
Skin Care Formulated For Sensitivity
When it comes to your baby, it's always better to be safe than sorry. Extremely reactive and already prone to redness, your baby's very sensitive skin needs special attention. That's why the experts at Mustela suggest avoiding hydrocortisone.
Fortunately, Mustela's Very-Sensitive Skin line offers a steroid- and fragrance-free range of skin care products for cleansing, moisturizing, and bathing your baby. And if your little one suffers from eczema, you can help soothe their skin and reduce irritation with our Stelatopia product line, created specifically for eczema-prone skin.
All of these products work to visibly (and safely) reduce redness and relieve sensations of tingling and tightness in your little one's delicate skin.
Keeping Your Baby's Skin Safe
Although your baby's skin may appear perfect on the outside, Mustela's researchers have clinically proven that baby skin is still developing until the age of two. During this period of development, your little one's skin is extremely fragile and is not able to fully protect itself from daily environmental conditions.
It is always best to avoid products that can potentially harm your little bundle of joy, like hydrocortisone. Whenever possible, opt to treat your baby's delicate skin with natural, baby-safe products.