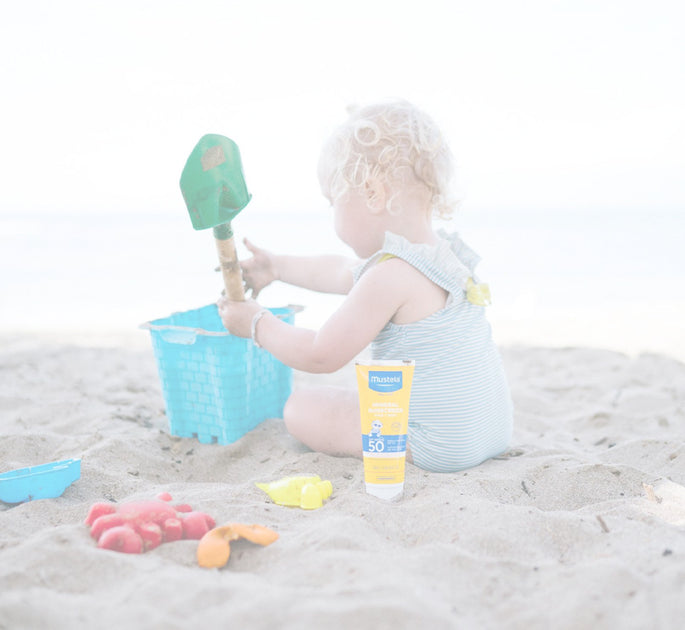 How To Choose The Best Baby Sunscreen For Your Little One
With summer right around the corner, it's time to start thinking about sunblock for the littlest members of the family so everyone can enjoy fun and safe summer adventures. Not sure how to choose the right baby sunscreen? We're here to help.
In this article, we'll discuss what to look for when shopping for baby or toddler sunscreen. You'll also read a few tips for baby sun safety in general. But before we get to that, we'll go over the basics: What baby sunscreen is and how it's different from adult sunscreen.
Table Of Contents
What Is Baby Sunscreen?
First things first, how is baby sunscreen different from adult sunscreen? The truth is that sometimes it's not. Baby and kid sunscreens may be marketed with cute colors and the like, but you'll have to check the ingredient list to know if it's actually different from adult sunscreen.
Ideally, baby sunscreen is formulated with gentle ingredients that are easy on their delicate skin. That mostly means that the active ingredients (the ones that protect their skin from the sun's rays) are mineral ingredients instead of chemical ingredients.
If you're unfamiliar with the two different types of sunscreen, here's a short primer.
Chemical Sunscreen
Chemical sunscreens use chemical ingredients such as oxybenzone, avobenzone, octinoxate, and homosalate to absorb and dissipate the sun's UV rays.
The bad news is that these ingredients can irritate the skin (especially baby skin or adults with sensitive skin).
And, even worse, the chemicals can seep into the skin and bloodstream, ending up in body fluids like breast milk and urine. Some of them are also hormone disruptors, throwing off the body's natural groove. We think it's better to stay away from these ingredients altogether.
Mineral Sunscreen
Meanwhile, mineral sunscreens use mineral ingredients (either titanium dioxide or zinc oxide) that protect your baby's skin by sitting on the surface of their skin and reflecting UV rays. These two ingredients are safe and non-irritating.
In fact, zinc oxide is more than safe — it's also soothing! This mineral ingredient has been used to care for skin conditions such as eczema and acne. Plus, it's often found in diaper creams!
Read more about the differences between chemical and mineral sunscreen here.
Baby Sunscreen For The Whole Family
To sum things up, we recommend steering clear of using chemical sunscreen on babies and kids. A baby sunscreen should be designed to be gentle on their skin.
But can adults use baby sunscreen? You bet. While chemical sunscreen isn't the safest option for babies, mineral sunscreen is safe and effective for both little ones and adults, too. In that sense, baby sunscreen and adult sunscreen can be one and the same!
Talk about one stop shopping for the whole family.
How To Choose Baby Sunscreen
With that information under your belt, let's jump into the practical part. Here are four things you need to know to choose a baby sunscreen that's safe for their skin while providing effective sun protection.
Look For Mineral Ingredients
As we mentioned, mineral ingredients are more gentle for baby skin. Check the active ingredient list to be sure that the baby sunscreen you're considering contains only non-nano zinc oxide or titanium dioxide and absolutely no chemical ingredients.
Here at Mustela, we make all of our sunscreens with non-nano mineral active ingredients. Rest assured that they are backed by scientific research, developed in collaboration with healthcare professionals, and tested under dermatological control.
Plus, our sunscreens boast the Seal of Recommendation from the Skin Cancer Foundation and are accepted by the National Eczema Association, making them the perfect option for sensitive or eczema-prone skin.
Another plus of our mineral ingredients? They are compliant with Hawaii's sunscreen ingredient requirements. It's a win-win for your family and the earth, too. 
Avoid Questionable Ingredients
In addition to chemical blockers, avoid questionable inactive ingredients. Inactive ingredients add fragrance, contribute to the sunscreen's texture, or act as a preservative. But, some of these ingredients can be harmful to your baby's body or irritate their skin.
When choosing a baby sunscreen, stay away from the following ingredients:
To know you're on the right track, look for a sunscreen that is labeled "hypoallergenic." This term is used for products made with ingredients that are less likely to cause allergic reactions.
The term "hypoallergenic" is not regulated by the FDA (Food And Drug Administration), so you'll still want to do an ingredient check yourself. But, looking for hypoallergenic options is a good starting point.
We've mentioned several ingredients to avoid, but it's also worth listing the good ingredients that you'll want to look for! Go with moisturizing and soothing natural ingredients such as:
Sunflower seed oil
Jojoba
Calendula
Chamomile flower extract
Coconut oil
Macadamia oil
If you're on the hunt for organic ingredients, too, turn to our SPF 50 Mineral Sunscreen Stick which is made with 70% organic ingredients including shea butter, avocado oil, sunflower seed oil, and jojoba.
The lightweight texture of our mineral sunscreen blends and absorbs easily and won't leave a white film on your skin.
Opt For Easy Application
When you've got a squirmy baby or toddler on your hands, sunscreen that's easy to apply is a must.
Whether you prefer spraying or slathering sunscreen on your busy little ones, we've got you covered from our SPF 50 Mineral Sunscreen Lotion and SPF 50 Mineral Sunscreen Stick to our SPF 50 Mineral Sunscreen Spray.
No matter how much your kids protest, reapply sunscreen after 80 minutes of swimming or sweating, immediately after towel drying, and at least every two hours.
Check For Broad-Spectrum Protection
If you've never understood exactly what "broad-spectrum" means, we'll demystify this sunscreen term for you. The sun shines down on us with UVA, UVB, and UVC rays. UVC rays don't make it to the earth's surface, but we need to be protected from both UVA and UVB rays.
That's where broad-spectrum protection comes in. Broad-spectrum simply means that the product protects you from both UVA and UVB rays, rather than just one of them.
Use SPF 30 To SPF 50
Speaking of demystifying sunscreen terminology, what does SPF mean? It stands for "sun protection factor." You'll see SPF in numbers such as 15, 30, and 50.
The Skin Cancer Foundation explains it this way: "The number tells you how long the sun's UVB rays would take to redden your skin if you apply the sunscreen exactly as directed compared with the amount of time without sunscreen."
For little ones, we recommend using SPF 30 or 50. And remember, regardless of the SPF you're using, reapplying sunscreen at least every two hours is a must!
Baby Sun Safety
To wrap up, let's discuss baby sun safety. Because it's more than just applying sunscreen.
First of all, the American Academy of Pediatrics (AAP) advises that parents keep babies under six months out of the sun entirely. The good news: It isn't too hard since your baby isn't very mobile at this age!
For little ones over six months of age, apply mineral sunscreen to any exposed skin after dressing them in sun protective clothing and a hat. Bing options for shade such as an umbrella or beach tent.
Another way to protect your baby from the sun's rays is to have your outdoor adventures in the morning and the evening when the sun's rays aren't quite as strong. Seek shade during the sun's peak hours (typically 10:00 am to 4:00 pm).
Baby Sunscreen For The Whole Family
With the right sunscreen and sun protection measures, enjoy fun in the sun with the whole family — babies included!
When choosing a baby sunscreen for the little members of the family, look for mineral active ingredients and avoid the questionable ingredients we mentioned in this article.
For broad-spectrum protection and easy application, go with SPF 50 Mineral Sunscreen Lotion, SPF 50 Mineral Sunscreen Stick, or SPF 50 Mineral Sunscreen Spray. And, keep in mind that a safe, gentle baby sunscreen is effective enough for the whole family to use!
Looking out for your whole family has never been easier.