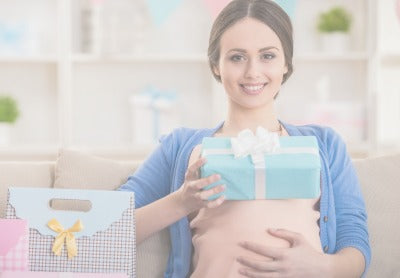 Baby Registry Checklist: The Complete Guide For Expecting Parents
Congratulations on your bundle of joy! With the news of your new addition, you might have some questions about what your baby will need once they enter the world. To find out what should be on your baby registry, take a look at our baby registry checklist below.
Between diaper cream and cute baby clothes, nursery accessories and bathtime necessities, you may feel overwhelmed by all of the things you need to gather for your little one.
We're here to help break things down for you so you can create your registry with confidence.
First, we'll share the what, when, where, and why of a baby registry, and then we'll jump straight into the baby registry checklist, separating the list into various sections, including clothing, sleeping, diapering, and more. Let's have a look!
What Is A Baby Registry?
A baby registry is a list of items you want for your little one. You will eventually have a baby shower, and the baby registry lets guests know what you want and need. Even though your baby is small, once they're in your arms and at home, you'll need several basic items.
Why Do I Need A Baby Registry?
A baby registry is about more than simply creating a list of essentials so you'll know what you need. It also lets your friends and family in on the fun! A baby registry allows them to easily see what you want, what you've already received, and what you still need.
Sometime in the second or third trimester, you will have a baby shower. This is when you can enjoy time with your loved ones celebrating your pregnancy and your little one on the way. It's also a time when the guests shower you with gifts to help you get ready for the new baby.
Your baby registry serves as a guide for your guests. They can choose from the registry to know specifically what you want and need and choose their gift accordingly.
Once your friends and family purchase an item on your registry, the cashier will scan your registry to show that the item has been purchased. This way, you won't receive multiples of the same gift.
What if you're having an online baby shower? It's still a good idea to create a registry. While you can choose not to open gifts on the video call, there are creative ways to receive and open the gifts so your guests can participate in the fun.
For tips and tricks on how to pull off a virtual baby shower (or an in-person baby shower!), read our article here.
When Should I Create A Baby Registry?
If you've decided to find out the gender of your little one, it's best to wait until your 20-week appointment to fully create your baby registry list.
That's when you'll have an ultrasound to find out what you're expecting (and a gender-reveal party if that's how you want to share the news!).
However, some items that you'll put on your registry are not gender-specific, so you can go ahead and start your list as soon as 12 weeks. After all, every baby — whether boy or girl — will need a crib to sleep in and diapers to do their business in, for example.
If you've decided to wait until delivery to find out the gender of your little one, you can start your registry around 12 weeks gestation. Throughout your pregnancy and before your shower, you can always go back and add to the registry as needed.
Where Should I Register?
You and your partner will decide where you'll register. You can register online, in-store, or both. Browsing and registering online allows you to do so from the comfort of your own home.
(In fact, we won't tell if you decide to spend the morning in bed, shopping for and dreaming about your little one!)
Or, if you prefer to see the items in person before adding them to your registry, venture out to the stores and spend some time looking around.
Review and research the details of retail stores and online sites to see what baby registry programs fit best for you and your baby. Keep in mind that if one store doesn't have everything you want for your little one, there's nothing wrong with registering at a couple of different places.
You can also opt for an online registry service that allows you to choose items from many different stores and have them on one registry. Talk about convenient!
The Complete Baby Registry Checklist
All of that said, let's get to the exciting part — deciding what to put on your registry. This will involve dreaming about your little one, imagining what they'll be like, and planning out their nursery. Have fun with it!
This is your unique baby and situation, so your needs, tastes, and preferences might be different than other expecting moms'.
Talk to other parents to hear their tips, ideas, and must-have baby products, but, at the end of the day, remember that each family is different and you might opt for different baby items.
Be specific on your registry so your baby shower guests will know exactly what your essentials are. Include plenty of options so your family and friends have a variety to choose from. Bonus: some stores offer a discount for items that are still on your registry when your baby arrives.
Each list below will give you a good idea of where to start, but feel free to add or remove items as you see fit.


Baby Registry Checklist: Clothing
During the first year of your little one's life, they will go through several clothing changes per day. Make sure you're prepared and have enough clothes on-hand to change when needed. After all, most of the time these changes will be completely unexpected!
All of the clothes you need for your baby might not need to go on your registry if you have hand-me-downs from a friend or if this is your second (or third or fourth!) child.
Check out the following list for must-have clothing items:
At least 10 onesies
3-5 pairs of pants
2-4 footed pants
5-7 one-piece pajamas
3 blanket sleepers for a winter baby
1-2 buntings for a winter baby
Hat that covers ears for a winter baby
Mittens for winter babies
Light sweater or jacket
Heavy sweater or jacket
7-10 pairs of socks
Brimmed hat for a summer baby
Swimsuit for a summer baby
2-4 pairs of no-scratch mittens
4-6 swaddle blankets
4-6 receiving blankets
1-2 sleepsack wearable blankets
2-3 dressy outfits
3-4 casual outfits
Gentle laundry detergent
Once your baby arrives, if you find that they have eczema-prone skin, it's a good idea to dress them in Mustela's Stelatopia Skin Soothing Pajamas for bedtime. Or you can put these pjs on your registry now, knowing that they're super gentle for any baby's skin!
These 100% cotton pajamas are made with OEKO-TEK® certified cotton, which is free of any allergens or potentially harmful substances. They deliver soothing moisture to the skin throughout the night via microcapsule technology.
Each microcapsule contains five natural ingredients: avocado oil, sunflower oil distillate, squalane, ceramides, and vitamin E.
Avocado oil works to maintain the skin's moisture barrier, while sunflower oil distillate, known for its soothing properties, replenishes the skin with much-needed lipids.
Baby Registry Checklist: Nursery
Preparing your little one's nursery adds to the excitement when you're expecting. The sky's the limit when it comes to paint color, wall decals, and the like!
While you decorate and arrange to your heart's content, consider the following items to keep you and your baby comfy in their room:
Crib
Changing table
Changing pad
Changing pad cover
Dresser
Glider/recliner/rocking chair
Ottoman
Nightlight
Cool mist humidifier
Sound machine
Storage Bin
Clothes hamper
Lamp
Mustela's Musti Eau De Soin Spray for clothes and linens
Baby Registry Checklist: Bassinet Sleeping
Most likely, your little one will be sleeping somewhere in your room for the first few months. In fact, the American Academy of Pediatrics recommends that infants sleep in their parent's bedroom at least until six months of age.
However, that doesn't mean that your baby should share your bed! Share your room but not your sleep surface.
Instead, a bassinet is perfect to place right beside your bed for your little one. Here are a few items you'll need to go along with the bassinet:
Bassinet pad
Bassinet pad cover
Baby Registry Checklist: Crib Sleeping
After a few months, you may decide to transition your little one to their own room. If this is the case, they'll need a crib to sleep in, along with the following items:
Firm, flat mattress
2-3 waterproof mattress covers
3-4 fitted sheets
Baby Registry Checklist: Disposable Diapering
Your newborn will go through at least 5-8 diaper changes every day. At least. Whether you use disposable diapers or cloth diapers, you'll soon become a diaper-changing pro.
Of course, with all these diaper changes, there can be some unexpected mishaps and messes. Make sure you have everything you need on-hand and in reach, such as:
Diapers (several boxes of each size)
Diaper bag with changing pad
Diaper Pail
Diaper Pail refills (at least five packs)
Be sure to register for a natural and gentle diaper cream, like Mustela Diaper Rash Cream 1 2 3 that will protect and soothe your baby's irritated bottom. Or, for an EWG Verified option, we recommend our Diaper Cream with Olive Oil and Aloe.
Both are vegan, dermatologist- and pediatrician-tested, and free of questionable ingredients such as parabens, phthalates, and phenoxyethanol.
Our Diaper Cream with Olive Oil and Aloe is made with 99.7% naturally derived ingredients, including olive oil that is sourced from family-owned groves in the South of France. Plus, this diaper cream is designed to be eco-friendly inside and out.
The packaging is made from sustainably sourced sugar cane, and we've gotten rid of secondary cartons. Good for the earth and your baby's skin, too!
Baby Registry Checklist: Cloth Diapering
Cloth diapering is not for everyone. But if your interest is piqued, learn more in our article "10 Tips For Changing Diapers The Natural Way." We explain some of the benefits for your baby as well as the earth and offer steps for dealing with those stinky cloth diapers.
If you decide to go the cloth-diaper route, here's what you should consider putting on your registry:
10-12 cloth diapers
Diaper cream
Soft washcloth
Wipes are not only essential for wiping your baby's bottom, but they also come in handy to clean up messes while you're on the go.
Try Mustela's NEA-Certified Organic Water Wipes with Cotton and Aloe or our Cleansing Wipes with Avocado. 
Baby Registry Checklist: Bath Time
Giving your newborn their very first bath might be intimidating! But soon, you'll be a pro at handling a slippery baby in the tub. 

Bath time serves more than one purpose. In addition to getting every nook and cranny clean, it can be a fun bonding experience for you and your baby. Just be sure to choose gentle products that will cleanse and hydrate your baby's skin without irritating it. 
Take a look at the following checklist for bath time:
4-6 soft washcloths  

4-5 soft baby towels or hooded towels 

Bath toys 

Storage for bath toys 

Baby-friendly tub 

Faucet cover 
Mustela's Newborn Arrival Gift Set is a perfect addition in the life of your little one. This gift set provides you with all the basics for bath time. It includes foam shampoo, gentle cleansing gel, no-rinse cleansing water, lotion, and diaper rash cream.  
You may also want to add Mustela's Multi-Sensory Bubble Bath to your baby registry checklist to ensure optimal bathtime fun once your little one gets a bit older!
Baby Registry Checklist: Breastfeeding
Breastfeeding is a special time for mom and baby, but it's not necessarily a walk in the park for every mother. Speaking with a lactation consultant is a good idea if you and your little one are struggling to get the hang of it.
While you can't put a lactation consultant on your baby registry checklist, what you can include is a natural nipple cream, like our Nursing Comfort Balm.
This soothing and restorative cream is made with 100% naturally derived ingredients and is enriched with vitamin E to nourish and protect your skin.
When breastfeeding, you'll need the following items:
Breast pump
Breast pump bottle set
Bottlebrush
Breastmilk freezer bags (a few packs)
Disposable breast pads (several packs)
Washable breast pads (4-6 pairs)
6-8 burp cloths
2-3 pacifiers
Baby Registry Checklist: Bottle Feeding
If you choose to bottle-feed, these are the essentials you'll need:
Formula
5-7 bottles
Various sized nipples
Bottle cleaner
5-8 bibs
Bottle storage rack
Bottle warmer
Bottle bag
Baby Registry Checklist: Toddler Feeding
Once your little one moves from milk to solid foods, you'll want to make sure you're prepared by having the following essentials:
4-6 sippy cups
Plates
Baby spoons
Baby forks
Rubber mat for the table to prevent slipping
Baby Registry Checklist: Safety
Safety is a top concern when it comes to your baby. This includes keeping an eye on them while they're snoozing, having first aid items on hand, and protecting their skin from the sun.
To help keep your baby safe inside as well as outdoors, you'll want to have the right items, like:
Baby monitor
Outlet protectors
Baby gate
When you venture outside, remember that you need to protect your baby's delicate skin from the rays of the sun. This means protective clothing as well as a sunscreen that won't irritate your little one's skin.
Go with a mineral sunscreen that contains the active ingredients zinc oxide and titanium dioxide instead of harmful and irritating chemicals, like oxybenzone, avobenzone, octisalate, octocrylene, homosalate, or octinoxate.
Our SPF 50 Mineral Sunscreen Lotion is a great option because it is fragrance-free and made with 93% naturally derived ingredients. Plus, it's safe enough for baby skin and effective enough for the whole family.
Bonus: This mineral sunscreen also comes in a spray and stick for convenience!
Baby Registry Checklist: Health
Next to safety, keeping your baby healthy is probably at the top of your list. Using the suggested items below will help keep your baby healthy.
Baby-friendly nail clippers
Soft brush
Nasal aspirator
Thermometer
Q-tips
Petroleum jelly and sterilized gauze for boys
Medicine Dropper
Baby Registry Checklist: Baby Gear
Even though your baby is little, they require quite a few big items. Some of the following items will essentially be for you, the parent, more than for your little one:
Crib
Full-sized stroller
Umbrella stroller
Car seat
Rear-facing car seat mirror
Bassinet
High chair
Bouncer
Swing
Pack n' play
Baby Registry Checklist: Playtime
You can't forget play time! Toys will become essentials in your little one's life before you know it. They will start exploring and learning right before your eyes with this suggested checklist of playtime items.
3-4 learning activity toys
3-4 rattles
2-3 teethers
Playmat
Books
Doorway jumper
Soft blocks
Other Things To Consider
While these are not true necessities, the below items are nice additions for your baby registry:
Baby book to keep track of growth
Portable crib
Jogging stroller
Sunshade for car window
Lullaby CDs
Maternity skin care items to care for your changing skin during and after pregnancy
We want to pause for a moment and encourage you to put a thing or two on your registry that's for you. While it's called a baby registry, you obviously play a major role in the whole thing! And when you're healthy and happy, you are better able to care for your little one.
Whether it's Stretch Marks Cream, Nursing Comfort Balm, or something a little more exciting, remember that your friends and family will want to care for and spoil you in addition to your baby!
Note: As you're creating your baby registry checklist, consider leaving off crib bumpers. Over the years, controversy has risen over the use of crib bumpers. Results have concluded crib bumpers can be dangerous, so it's best to avoid using them and opt instead for breathable mesh crib liners.
Baby Registry Checklist: Summing It All Up
Whether you breastfeed or bottle-feed, use disposable diapers or cloth diapers, this baby registry checklist gives you a complete idea of what to add to your registry.
Add the essentials, like Cleansing Wipes, Diaper Cream with Olive Oil and Aloe, Nursing Comfort Balm, and Mineral Sunscreen, and adapt everything to your preferences and lifestyle.
Expecting a new bundle of joy is an exciting time in your life! So don't get overwhelmed. Sit back and relax, knowing the baby experts at Mustela have you covered.